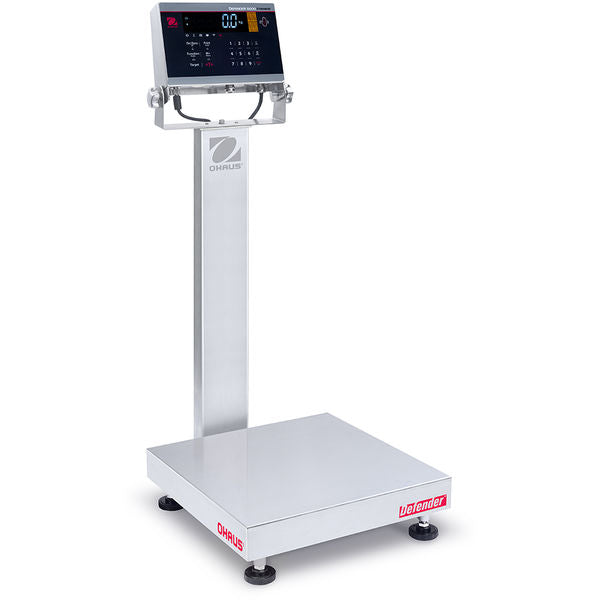 Ohaus Defender 6000 Hybrid Bench Scale i-D61XWE25WQL7, Legal for Trade, 50 lb x 0.002 lb
Original price
$2,939.00
-
Original price
$2,939.00
Introducing the Ohaus Defender 6000 Hybrid Bench Scale i-D61XWE25WQL7, Legal for Trade, a powerful and versatile weighing solution designed to excel in even the harshest processing and packaging environments.
With its impressive IP68 immersion and IP69K washdown protection, a robust 316 stainless steel base, and a hermetically-sealed load cell, this scale is built to withstand rigorous cleaning routines.

This durable Defender 6000 scale is NSF certified, making it an ideal choice for food, chemical processing, and packaging industries. The 316 stainless steel base ensures superior corrosion protection, while the sturdy indicator adds an extra layer of durability. It's the perfect companion for supporting HACCP systems and maintaining strict hygiene standards.

With its fast-weight display and multiple software modes, the Defender 6000 offers exceptional versatility to meet a wide range of needs in the food, chemical processing, and packaging industries. Whether you require accurate weighing, counting with APW optimization, percent weighing, checkweighing, checkcounting, filling, or dynamic weighing/display hold, this scale has you covered.

Featuring a clear 6-digit, 7-segment white LED display with significant 20 mm high digits, the Defender 6000 allows for effortless reading of measurements. Its universal power supply (100-240 VAC / 50/60 Hz) ensures reliable operation worldwide.

For seamless communication and connectivity options, this scale provides accessible access communication ports, including RS232 and USB host (included), a second RS232/RS485/USB device, Ethernet, and WiFi/Bluetooth. Additionally, it offers discrete I/O and analog output options (sold separately as accessories). The GLP/GMP data output with real-time clock further enhances data management capabilities.

Built to last with its 316 stainless steel platform and frame, hermetically-sealed stainless steel load cell, and IP68/IP69K 316 stainless steel housing indicator and mounting bracket, the Defender 6000 is designed for longevity. Its design features include 150% overload capacity protection, a bar matrix check light, customizable print templates, menu and key lock, selectable environmental and auto-print settings, stability indicator, overload/underload indicators, auto shut-off, auto tare, and adjustable non-slip rubber feet.

Choose the Ohaus Defender 6000 Hybrid Bench Scale i-D61XWE25WQL7 for reliable and accurate weighing in demanding environments.
Experience the power of precision with this exceptional scale.