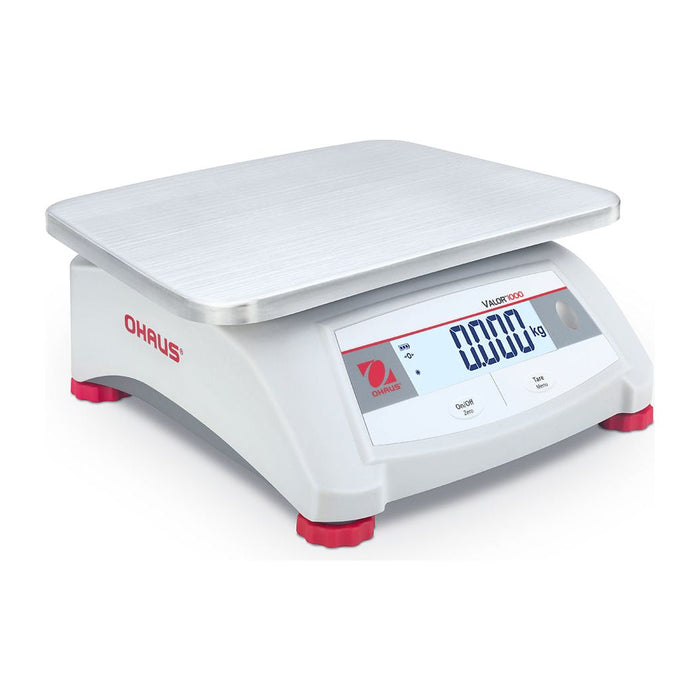 OHAUS 9.65" x 7.48" Valor 1000 V12P30 Food-safe Scale 60 lb x 0.01 lb
Original price
$262.00
-
Original price
$262.00
Introducing the OHAUS 9.65" x 7.48" Valor 1000 V12P30 Food-safe Scale, the ultimate companion for all your food preparation tasks.
With its NSF-certified and USDA AMS-accepted design, this scale supports HACCP systems, ensuring the highest standards of safety and quality.
The Valor 1000 is equipped with stainless steel pans and plastic in-use covers, providing an extra layer of protection for your ingredients and ensuring a hygienic environment. Say goodbye to costly battery replacements with its energy-efficient design that can operate for up to one year or 1,500 hours. This not only saves you money but also reduces waste.
Featuring an intuitive two-button operation, the Valor 1000 allows for quick weight checking, simplifying repetitive tasks and increasing operator efficiency. No more wasted time or guesswork - just precise measurements every time.
Whether you're weighing ingredients or tracking portion sizes, the LCD display with white backlight ensures clear visibility in any lighting condition. For added convenience, the dual display feature in the T models provides even greater accuracy and ease of use.
The OHAUS Valor 1000 offers versatility in its power options. It can be powered by D-cell alkaline batteries or a power adapter, giving you the flexibility to choose what works best for your needs.
Designed with practicality in mind, this scale features an ABS housing, plastic or stainless steel pan, and convenient carry handles for easy transport. The external digital calibration software ensures accurate readings at all times. The integrated level bubble and adjustable feet further enhance stability and precision.
With selectable weighing units, you can switch between different measurement systems effortlessly. Plus, the optional RS232 communication allows for seamless data transfer to other devices or systems.
In conclusion, the OHAUS 9.65" x 7.48" Valor 1000 V12P30 Food-safe Scale is a reliable and efficient tool that meets the demanding requirements of food preparation. Its superior features, energy efficiency, and user-friendly design make it an indispensable asset in any professional kitchen or laboratory.
Experience the precision and convenience of the Valor 1000 today.