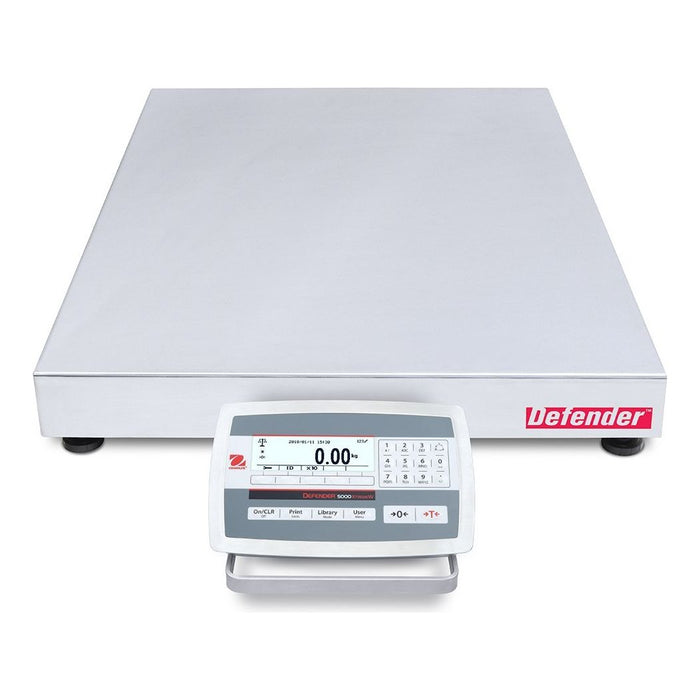 Ohaus 24"x24" Bench Scale, D52XW250RQV5 500lb x 250kg
Original price
$2,556.00
-
Original price
$2,556.00
Introducing the Ohaus 24"x24" Bench Scale, D52XW250RQV5 500lb x 250kg, a user-friendly model that makes weighing and data management a breeze.
With its easy-to-use keypad, large backlit display, and plain text on-screen prompts, this bench scale guides you through operation effortlessly.

Built to last, this scale features a stainless steel platform, sand grey powder-coated steel frame, and an aluminium load cell. Its durable construction ensures reliable performance in any industrial setting. Plus, the Defender model meets NTEP/Measurement Canada or OIML/EC type approvals, depending on your region.

This versatile scale offers a range of standard industrial modes and supports a 50,000-item library with 1,000 user profiles for efficient data management. Including GMP/GLP with time/date functionality ensures the traceability of your results.

Whether you need to weigh items, perform parts counting, calculate percentages, check weights, or utilize dynamic weighing with a display hold feature, this bench scale has covered you. The backlit liquid crystal display (LCD) with 256 x 80 pixels provides clear visibility in lighting conditions.

For convenience and flexibility, this scale operates using an internal power supply or a rechargeable battery (sold separately as an accessory). It also offers accessible access communication ports, including RS232 and Micro SD slot (included), a second RS232/RS485/USD device, Ethernet and WiFi/Bluetooth connectivity options (accessories sold separately).

The construction of this bench scale incorporates an ABS plastic or stainless steel indicator (depending on the model), a 304-grade stainless steel platform with a sand grey powder-coated steel frame, an aluminium load cell, and non-slip adjustable rubber feet for stability.

Featuring user-configurable resolution up to dual range 15,000d/3,000e (25,000d/5,000d for NTEP), 150% overload capacity protection, checkweighing symbols with the selectable operation and audible signal settings, menu lock switch, multiple selectable operating languages, and adjustable contrast settings, this scale offers a customizable experience. It also includes features like auto-dim display, auto-off, brightness adjustment, screensaver, and auto tare for added convenience.

In summary, the Ohaus 24"x24" Bench Scale, D52XW250RQV5 500lb x 250kg, is a reliable and user-friendly solution for all your weighing needs.
Invest in this portable scale and experience accurate measurements with ease.