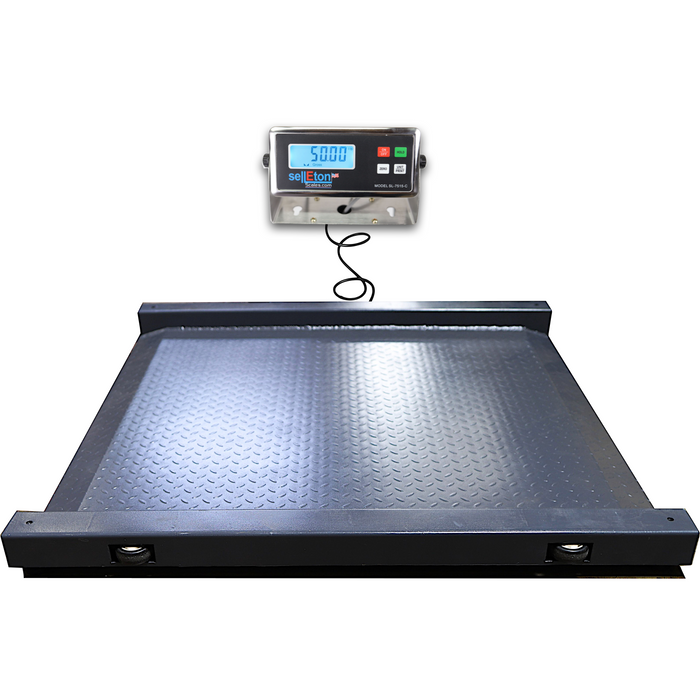 Liberty LS-917-HD-5000 lb x 1 lb Drum 60"(L) x 56"(W) x3.5" (H) NTEP ( Legal for trade )
Original price
$1,499.00
-
Original price
$1,499.00
Introducing the Liberty LS-917-HD-5000 lb x 1 lb Drum Scale, a heavyweight champion in commercial operations.
This larger-than-life scale is designed to easily handle the toughest tasks, making it an essential tool for any business.

With its low profile design and a generous platform size of 48' W x 52' L, the LS-917-HD-5000 can effortlessly accommodate heavy pallet jacks, dollies, carts, and even drums rolled on ends. No more struggling to weigh your bulky goods - this scale is built to handle them all.

Equipped with a robust capacity of 5000 lb x 1 lb, this scale ensures accurate measurements every time. Say goodbye to guesswork and hello to precision. Plus, with its 4' integral ramp on either side and 3' high live rails, loading and unloading your items has never been smoother or safer.

Safety is paramount, so the LS-917-HD-5000 is constructed with 100% welded steel and features a checkered safety plate. You can trust in its durability and stability, providing peace of mind during every use.

Legal for trade NTEP certification means you can rely on the accuracy of this drum scale for any commercial application. It meets all the necessary standards and regulations, ensuring compliance in your business operations.
Key Features:
Built to withstand the toughest environments, this drum scale's robust construction ensures durability and longevity. The large checkered safety plate platform with integral ramps provides a secure grip for drums and barrels, preventing slippage during the weighing process.
One of the standout features of the Liberty LS-917-HD-5000 lb x 1 lb Drum Scale is its live rails. This innovative design allows you to weigh directly on the platform or conveniently place a pallet across the rails. No matter how you choose to use it, this scale delivers accurate and reliable measurements every time.
To enhance its functionality further, this drum scale offers optional accessories such as a printer, scoreboard display, wireless connectivity, and software. These additional features allow you to streamline your operations and improve efficiency in your workplace.
With overall dimensions of 60"(L) x 56"(W) x 3.5"(H) and platform dimensions of 52"(L) x 48"(W) x 1.5"(H), this drum scale provides ample space to accommodate various sizes of drums and barrels. Its compact design ensures that it can fit seamlessly into your workspace without taking up unnecessary room.

Invest in the Liberty LS-917-HD-5000 lb x 1 lb Drum Scale today and experience unparalleled accuracy and efficiency in your industrial weighing processes.
Shipping Policy:

We offer free shipping for business addresses within the contiguous 48 states. For residential delivery, a small additional fee of $100 applies. Lift gate services are also available for easy unloading, with an optional $50 charge if no forklift is available. People from Hawaii & Alaska can Contact us for personalized Shipping Quotes. Your satisfaction is our Top Priority! Kindly provide your contact number and company name for business purchases.
Trust in Liberty Scales' commitment to quality and reliability as you take your operations to new heights.