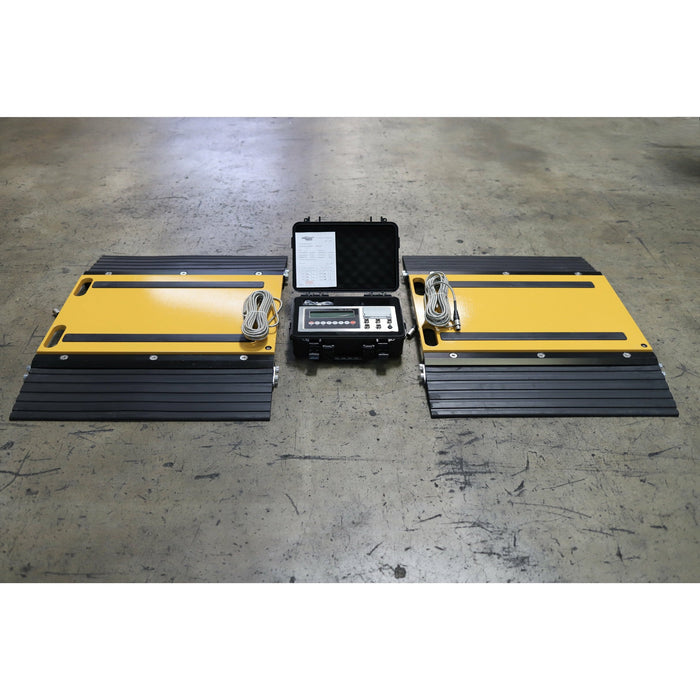 LS-928-1728 Weigh pads system for vehicles, air craft, container 17" x 28" surface
Original price
$2,999.00
-
Original price
$7,999.00
Introducing the LS-928-1728 Weigh Pad System for vehicles, aircraft, and containers - the ultimate solution for accurate and efficient weighing.
Whether you need to weigh large vehicles, airplanes, cargo, or any other heavy-duty load, these portable weigh pads are here to revolutionize your weighing process.
Key Features:
Crafted from lightweight yet durable high-strength aluminum, these weigh pads offer a low-profile design without compromising robustness.
With a length of 17 inches, a width of 28 inches, and a height of 2 inches, they provide ample surface area to accommodate even the largest loads.
Each pad is equipped with 8 load cells to ensure precise weight measurements.
With a remarkable capacity of 25,000 pounds per pad, the LS-928-1728 Weigh Pad System can handle a total weight of up to 50,000 pounds.
Each load is manageable for this cutting-edge system. And for added convenience, you can customize your system with 2, 4, or 6 pads - all wireless!
Included with the LS-928-1728 Weigh Pad System is the LS-7561 Multi-Channel Briefcase Indicator with a built-in printer. This compact device allows you to easily monitor and record weights accurately.
The interlocking skid-resistant ramps ensure safe and easy access to the weigh pads.
Worried about cables? Fear not! The LS-928-1728 Weigh Pad System has a generous 33-foot long metal shielded cable for seamless connectivity.
And to provide you with peace of mind, this incredible system is backed by an impressive 5-year warranty.
Experience the precision and convenience of the LS-928-1728 Weigh Pad System from Liberty Scales - your trusted partner in accurate weighing solutions.
Shipping Policy:

We offer free shipping for business addresses within the contiguous 48 states. For residential delivery, a small additional fee of $100 applies. Lift gate services are also available for easy unloading, with an optional $50 charge if no forklift is available. People from Hawaii & Alaska can Contact us for personalized Shipping Quotes. Your satisfaction is our Top Priority! Kindly provide your contact number and company name for business purchases.
Upgrade your weighing process today and take control of your measurements like never before.