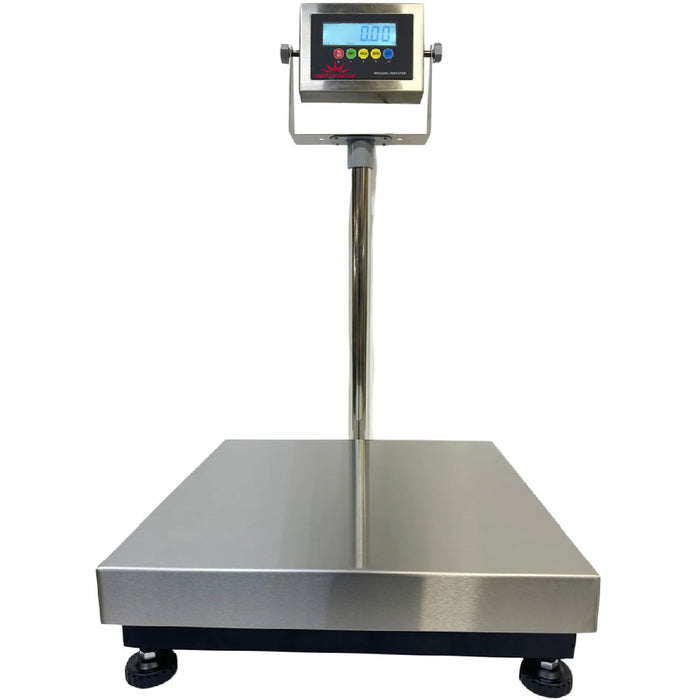 Liberty LS-916-18x18 Industrial portable bench scale Stainless steel with 600 lb capacity & .05 lb Accuracy
Original price
$499.00
-
Original price
$499.00
The LS-916-18x18 bench scale from Liberty Scales! 
Expect to be awed by the strength and accuracy included in this amazing weigh model.
Key Features:
With a huge platform that measures 18" x 18" (46 cm and 46cm) The scale has been built to tackle heavy-duty weighing tasks easily.

 

It has a capacity of 600 pounds (272 kilograms) with a stunning precision of 0.05 lb (0.02 kilograms).

 

Say goodbye to guesswork and hello to precise measurements each time.

The LS-916-18x18 comes with a sturdy stainless steel platter and indicator, which makes it not only durable but also extremely simple to wash.

 

Don't waste time rubbing off staining that is difficult to remove.

 

One simple wipe is all you need to keep the scale looking like new.

The portability of the product is an important feature on this scale.

 

Despite its powerful performance, it's still lightweight and simple to move.

 

If you have to transfer it between workspaces or even take it to the go the scale will provide ease of use and flexibility.

Are you concerned about power supply?

 

Don't be!

 

The LS-916-18x18 is equipped with a built-in battery which can give you an incredible running time of 100 hours with a single charge.

 

So, say goodbye to power cords and welcome uninterrupted weight-weighing processes.

Liberty is adamant about the quality of their products and offer a five-year guarantee.

 

They are committed to offering their customers the most reliable and durable solution and guaranteeing you'll be satisfied for many years to be.

The best part is that Liberty Scales even offers free shipping and delivers this incredible scale directly to your doorstep at no additional charge.

 

It's an easy experience from beginning to end.

Discover the future of precise weights with the LS-916-18x18 bench-scale from Liberty Scales.

 

Its incredible capacity, precision and simple-to-clean design makes it the perfect option for a variety of industries.
Don't rely on guesswork when it comes to weight. Get the LS-916-18x18 weighing system and take advantage of precise measurements, simple cleaning, as well as the ease of portableness. Make your purchase now to take your weighing processes to new levels of excellence!
 ** Disclaimer: This is a Non-NTEP Scale, and therefore not a scale certified by the NTEP. Customers who need to purchase an NTEP scale should refer the LS-915 Series.
Shipping Policy:

We offer free shipping for business addresses within the contiguous 48 states. For residential delivery, a small additional fee of $100 applies. Lift gate services are also available for easy unloading, with an optional $50 charge if no forklift is available. People from Hawaii & Alaska can Contact us for personalized Shipping Quotes. Your satisfaction is our Top Priority! Kindly provide your contact number and company name for business purchases.