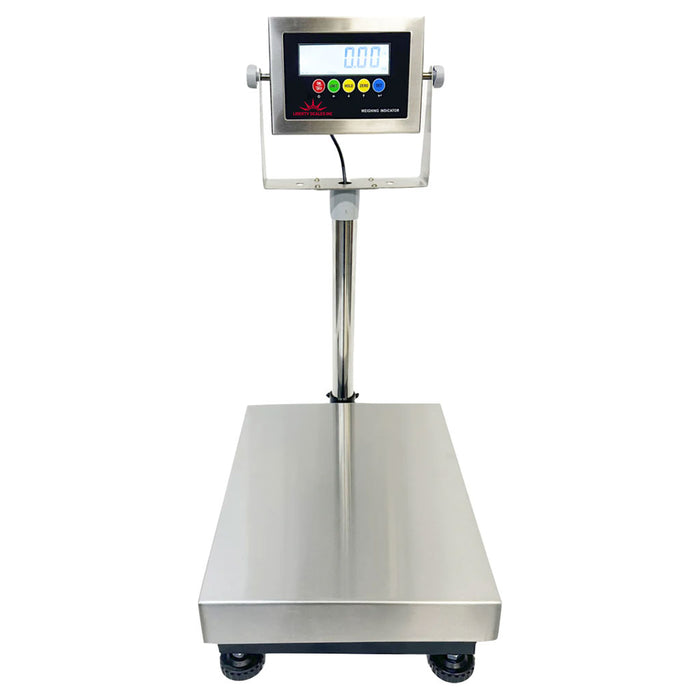 Liberty LS-916-16x12 Industrial Bench scale 16" x 12" Stainless steel platform & indicator 400 lb x .02 lb
Original price
$399.00
-
Original price
$399.00
Liberty Scales has brought to the market the amazing LS-916-1612 bench scale! This device is ideal for various uses in the shipping and food industries. Prepare to be amazed!
Key Features:
This scale has an incredible capacity of 400 lb (181 kg) and an accuracy of 0.02 lb (0.01 kg), making it an absolute powerhouse of precision. You can trust it to provide you with precise measurements all the time.
The LS-916-1612 is also provided with a stainless steel indicator and platter, making it incredibly easy to maintain cleanliness. You won't have to worry about scrubbing it for hours, as a simple swipe is all that is needed to restore it to its gleaming condition.
It's incredible - this scale is incredibly lightweight and designed to be taken wherever you want. You can have it as your weighing companion at any time and in any place. It's the perfect companion for on-the-go measuring.
What's more, the in-built battery is a huge benefit. It can provide power for up to one hundred hours after a single charge. There is no need to stress about locating a power source or worrying about interruptions; this scale is as durable as yours.
Did I mention the amazing 5-year warranty that Liberty Scales offers? It's true! They have faith in their product's quality and want to ensure you're absolutely content. You'll be backed up for the long haul.
The icing on the cake? Delivery with no additional cost! Yup, you heard correctly. This incredible scale can be brought to your door with no extra fee. That's what we call convenient!
Be prepared to be astounded with Liberty Scales' LS-916-1612 bench scale. This product is ready to modernize your weighing encounters.
Take advantage of this amazing opportunity! Go ahead and make your purchase now!

*** Note: This is not an NTEP-certified scale. Those requiring an NTEP-approved scale should look into our LS-915-Series.

Shipping Policy:

We offer free shipping for business addresses within the contiguous 48 states. For residential delivery, a small additional fee of $100 applies. Lift gate services are also available for easy unloading, with an optional $50 charge if no forklift is available. People from Hawaii & Alaska can Contact us for personalized Shipping Quotes. Your satisfaction is our Top Priority! Kindly provide your contact number and company name for business purchases.