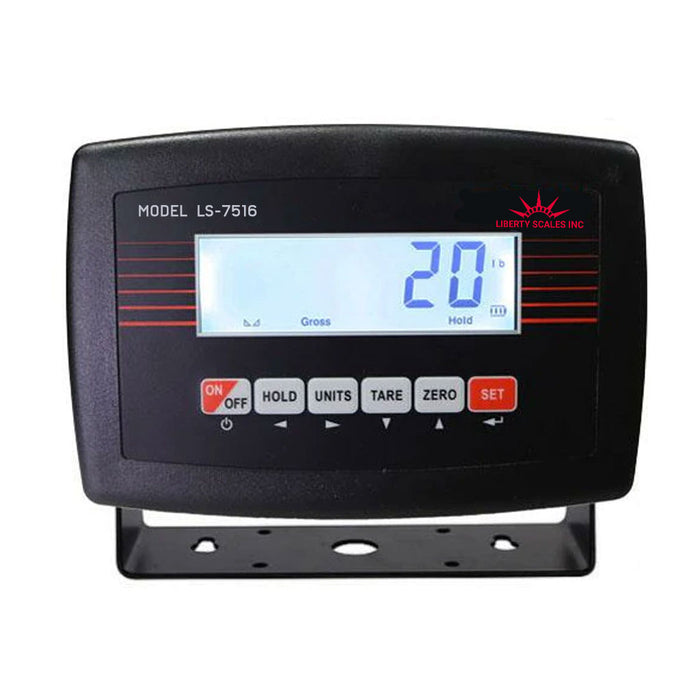 Liberty LS-7516-B Bright LCD Indicator for scoreboard, Floor Scales, Pallet Jack Scales & Truck Scale
Original price
$399.00
-
Original price
$449.00
This state-of-the-art scale is encased in a durable plastic casing, ensuring it can withstand the rigors of everyday use while maintaining its sleek appearance.
Key Features:
With the option to choose between LED or LCD displays, you have full control over how you view your measurements. The bright and clear display allows for easy reading, eliminating any guesswork or confusion.
But this scale offers more than just a pretty face. It boasts multiple weighing units, allowing you to switch effortlessly between kilograms and pounds depending on your preference or requirements. The general weighing functions - Gross, Tare, and Zero - provide precise measurements for a variety of objects.
What sets the Liberty LS-7516-B apart from the competition are its advanced features. With multiple Hold functions including animal weighing, peak-hold, manual-hold, and auto-hold, you have the flexibility to weigh different types of objects accurately and efficiently. No more struggling to keep track of fluctuating weights.
Safety is paramount when it comes to weighing heavy objects. That's why this scale includes overload and underload indication, alerting you when the weight exceeds or falls below the recommended limit. Say goodbye to worrying about damaging your scale or compromising accuracy.
Printing your measurements is a breeze with the convenient print option. You can easily generate hard copies for record-keeping or share them with clients or colleagues.
Never worry about running out of power again thanks to the built-in rechargeable battery. And with the low battery reminder feature, you'll always know when it's time to recharge.
For added convenience and energy efficiency, the Liberty LS-7516-B automatically powers off after a period of inactivity, saving both time and energy.
To give you peace of mind, this scale comes with an impressive 5-year warranty. Rest assured that your investment is protected and that you're buying a product built to last.
Whether you're in a warehouse, factory, or shipping department, the Liberty LS-7516-B Bright LCD Indicator scoreboard and floor Truck Scale is the reliable and accurate weighing solution you've been searching for.
Shipping Policy:

We offer free shipping for business addresses within the contiguous 48 states. For residential delivery, a small additional fee of $100 applies. Lift gate services are also available for easy unloading, with an optional $50 charge if no forklift is available. People from Hawaii & Alaska can
Contact us
 

for personalized Shipping Quotes. 

Your satisfaction is our Top Priority! Kindly provide your contact number and company name for business purchases.
Upgrade your weighing experience today with Liberty Scales.