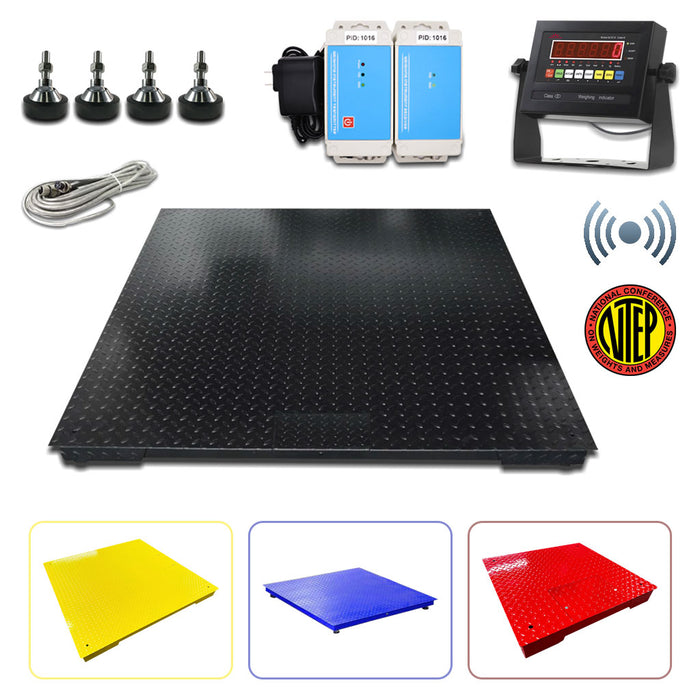 Build-your own, Liberty scales NTEP certified Industrial LS-800-W Wireless Floor scales
Original price
$1,322.99
-
Original price
$7,498.00
Introducing the Liberty scales NTEP certified Industrial LS-800-W Wireless Floor scales, your key to effortless and seamless weighing in any industrial setting. These cordless scales are designed to elevate your weighing experience, making them an essential tool for your business.

Sizes to Suit Your Needs:
Capacity & Accuracy Options:
1000 lb x 0.2 lb
2500 lb x 0.5 lb
5000 lb x 1 lb
10,000 lb x 1 lb
20,000 lb x 2 lb
Key Features: 
Constructed with durability in mind, these wireless floor scales are built to last. Made from welded steel with tread plate construction, they can withstand the rigors of daily use in even the toughest environments.
With unmatched strength and 200% overload protection, these scales ensure accurate and reliable measurements every time.
Stay connected with the 20' heavy-duty metal shielded cable for the LS-7510 Series Indicator included with the scales. This ensures a stable and reliable connection, allowing you to monitor and control your weighing process easily.
The indicator also offers lb/kg selectability, giving you the flexibility to choose the unit of measurement that suits your needs.
Plus, with the rechargeable battery option, you can operate the scales without worrying about power outlets.
Featuring a crystal clear display with 6 digits and a 1" LED screen, these scales offer easy-to-read measurements at a glance.
The built-in RS-232 communication port allows seamless integration with other devices or systems, streamlining your workflow and increasing productivity.
Rest assured that precision is guaranteed with these NTEP-certified floor scales. Factory-calibrated for accuracy, you can trust the measurements they provide. Safety is also a top priority, with overload protection to prevent any damage caused by excessive weight.
Experience peace of mind with the 5-year warranty that comes with these Liberty scales. It's a testament to their quality and durability, ensuring they will continue to serve your business reliably for years.
Choose Liberty scales NTEP-certified Industrial LS-800-W Wireless Floor scales for a superior weighing solution that combines strength, precision, and convenience in one package.
Take control of your weighing process today and experience the difference these scales can make for your business.