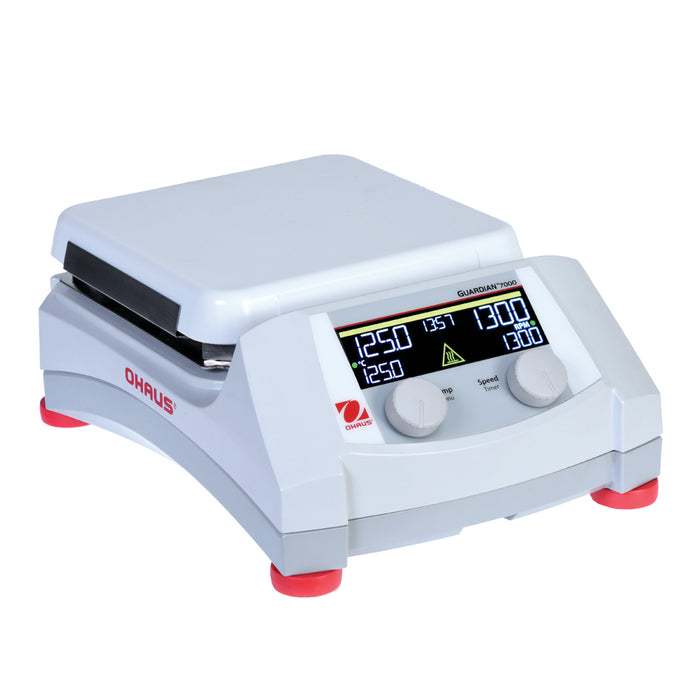 Hotplate-Stirrer e-G71HS10C 120V US
Original price
$1,365.00
-
Original price
$1,365.00
Introducing the Hotplate-Stirrer e-G71HS10C 120V US, a powerful and versatile addition to any laboratory.
This cutting-edge device combines advanced technology with robust construction to provide precise temperature control and efficient stirring for a wide range of applications.

One of the standout features of this hotplate stirrer is its innovative SmartPresence™ and SmartLink™ technologies, designed to enhance safety in the lab. Thanks to these exclusive features, the heater automatically shuts off if no one is detected after a user-defined "time out" period. This ensures your lab remains protected even if you forget to turn off the device.

Safety is paramount regarding laboratory equipment, and the Hotplate-Stirrer e-G71HS10C 120V US does not disappoint. It incorporates SafetyHeat™, an industry-leading early detection system that utilizes two independent safety controls to monitor the electronics and prevent overtemperature conditions from occurring. With this added layer of protection, you can have peace of mind while working on temperature-sensitive experiments.

The precision stirring capabilities of this hotplate stirrer are awe-inspiring. With a range of 60 to 1600 rpm, it can handle even the most dense applications with ease. This is made possible by a powerful motor, a strong magnet, and software-controlled ramp rate, ensuring secure magnetic coupling for optimal performance.

The Hotplate-Stirrer e-G71HS10C 120V US boasts a user-friendly interface with a backlit LCD that provides precise readings of temperature, speed, and time. Green indicator lights indicate when the unit is heating and stirring, while two prominent hot top indicator lights ensure safety during operation. Additionally, icons for SmartRate™, SmartHeat™, SmartPresence™, SmartLink™, probe in use, and Single Point Calibration further enhance usability.

Constructed with durability, the Hotplate-Stirrer e-G71HS10C 120V US features a SmartHousing™ that stays cool and is chemical-resistant. The IP21 Ingress Protection ensures protection against moisture and dust, while the hardened glass front panel and control knobs add to its ruggedness. With an easy-to-clean ceramic or aluminum top, maintenance is a breeze.

Enhanced communication capabilities are also a highlight of this device. The USB port allows for the programming of repeat applications and seamless integration with SmartLink™ technology, providing an added layer of safety. For long-range user detection, use the OHAUS Bluetooth dongle accessory (sold separately) to unlock this feature.

In conclusion, the Hotplate-Stirrer e-G71HS10C 120V US is a powerful and reliable tool to revolutionize your laboratory work. With its advanced features, precise temperature control, and efficient stirring capabilities, it is a must-have for any scientist or researcher seeking optimal results.
Upgrade your lab today with this exceptional hotplate stirrer.