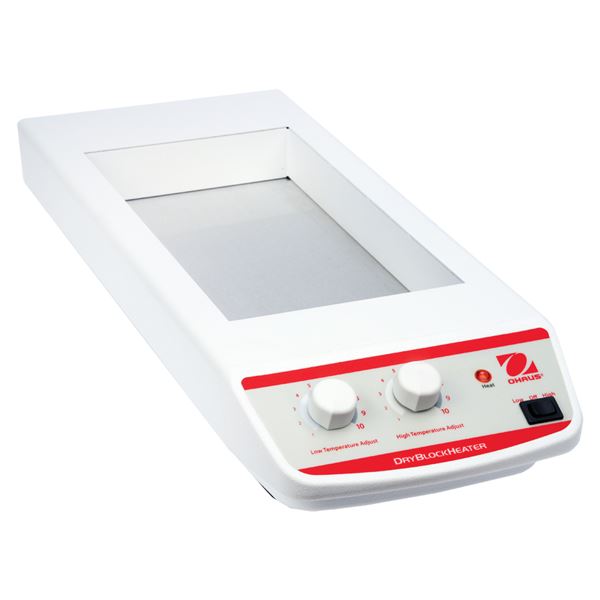 Ohaus HB6AL Analog Dry Block Heater, 6 Block, 120V
Original price
$1,150.00
-
Original price
$1,150.00
Introducing the Ohaus HB6AL Analog Dry Block Heater, a versatile and efficient solution for high throughput applications.
With its unique design and six-block capacity, this device allows you to process multiple samples simultaneously, saving time and effort.

One of the standout features of the HB6AL is its unparalleled temperature accuracy. The digital models come equipped with a single point calibration feature, ensuring that the displayed temperature matches a known external temperature standard for three setpoints. This guarantees precise and reliable results every time.

The digital models also boast user-friendly touchpad controls with independent displays for temperature and time. This intuitive interface makes it effortless to navigate and monitor your experiments. On the other hand, the non-digital models feature dual temperature adjustment knobs, providing a robust and straightforward control mechanism.

The HB6AL is suitable for various applications, including incubation and activation of cultures, enzyme reactions, immunoassays, melting/boiling points, isothermal incubations, and nucleic acid denaturation. Its LED display (digital models) or dual-adjustment knobs with dial markings (analog models) allow for easy monitoring and precise temperature adjustments.

Constructed with painted steel housing and a support rod holder with a locking knob, the HB6AL ensures durability and stability during operation. The digital models also have additional design features, such as a touchpad control and an audible alarm to enhance user convenience.

For your convenience, the HB6AL includes a detachable 3-wire cord and plug. Please note that analog models require an external thermometer or temperature device for temperature setpoint configuration.

Choose the Ohaus HB6AL Analog Dry Block Heater for its exceptional performance, versatility, and user-friendly features.
It's time to revolutionize your laboratory processes with this top-of-the-line device from Ohaus.