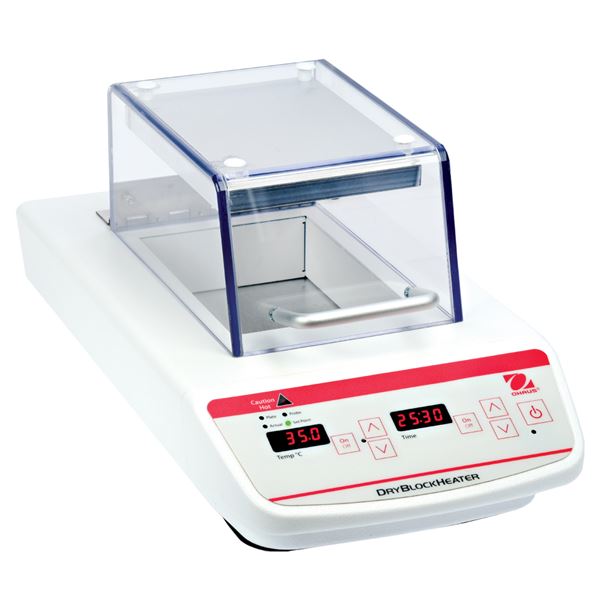 Ohaus HB2DGHL Digital Dry Block Heater, 2 Block, 120V
Original price
$1,400.00
-
Original price
$1,400.00
Introducing the Ohaus HB2DGHL Digital Dry Block Heater, the perfect solution to meet your temperature control needs.
With three customizable models, this versatile block heater ensures exceptional temperature uniformity and stability for all your applications.

One of the standout features of the HB2DGHL is its ability to minimize condensation and maintain sample integrity. Equipped with a heated lid and a second heater, it prevents contamination and ensures repeatable and reliable results. Say goodbye to compromised experiments and hello to precise and accurate outcomes.

Accuracy is critical in temperature control, and the HB2DGHL doesn't disappoint. The digital models come with a unique single point calibration feature that allows you to match the block heater's display to an external temperature standard. With three temperature setpoints, you can trust that your samples are being heated to the exact temperatures required.

Whether you're incubating cultures, conducting enzyme reactions, performing immunoassays, or carrying out nucleic acid denaturation, this block heater has covered you. The LED display on the digital models provides clear and easy-to-read temperature readings, while the analog models feature dual-adjustment knobs with dial markings for precise temperature adjustments.

Operating the HB2DGHL is a breeze with its detachable 3-wire cord and plug (included). Please note that analog models require an external thermometer or temperature device to set the desired temperature accurately.

Constructed with durable painted steel housing, this block heater is built to withstand the demands of a busy laboratory environment. It also features a support rod holder with a locking knob for added convenience during your experiments.

With touchpad control and an audible alarm on the digital models, you'll never have to worry about missing essential temperature changes or variations. Stay in control of your experiments and achieve consistent results every time.

Upgrade your laboratory equipment with the Ohaus HB2DGHL Digital Dry Block Heater. Experience exceptional temperature control, unmatched stability, and reliable performance. Please don't settle for less when it comes to your research.
Trust in the precision and quality of Ohaus.