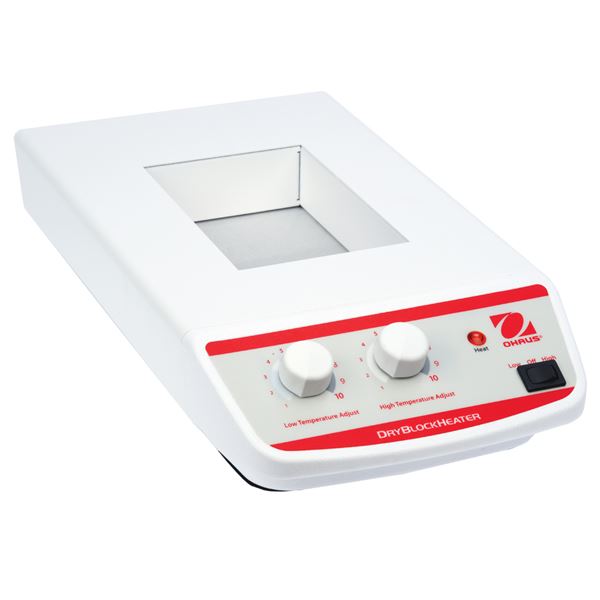 Ohaus HB2AL Analog Dry Block Heater, 2 Block, 230V
Original price
$530.00
-
Original price
$530.00
Introducing the Ohaus HB2AL Analog Dry Block Heater, the ultimate solution for all your incubation and activation needs.
With three customizable models to choose from, this block heater guarantees exceptional temperature uniformity and outstanding stability, ensuring accurate and reliable results every time.

Maintaining sample integrity is crucial, so the Heatblock with Heated Lid is designed to minimize condensation and prevent contamination. Equipped with a second heater in the lid, this innovative feature ensures that your samples remain untainted and your experiment yields repeatable outcomes.

Temperature accuracy is key, and the digital models of the HB2AL include a unique single-point calibration feature. This lets you match the block heater's display to a known external temperature standard for three different setpoints, guaranteeing precise and consistent temperature control.

Whether you need to perform enzyme reactions, immunoassays, or nucleic acid denaturation, this versatile block heater has covered you. Its LED display (available in digital models) provides clear visibility of the temperature settings, while the analog models offer dual-adjustment knobs with dial markings for easy operation.

Constructed with durable painted steel housing and a support rod holder with a locking knob, the HB2AL ensures stability and longevity. For ease of use, it comes with a detachable 3-wire cord and plug (included). Please note that analog models require an external thermometer or temperature device for temperature setpoint.

With its touchpad control and audible alarm (digital models), the Ohaus HB2AL Analog Dry Block Heater combines functionality with convenience. It is the perfect addition to any laboratory or research facility where precision and reliability are paramount.

Choose the Ohaus HB2AL Analog Dry Block Heater for unparalleled temperature control and peace of mind during your experiments. Keep quality high when it comes to your scientific endeavors.
Order yours today!