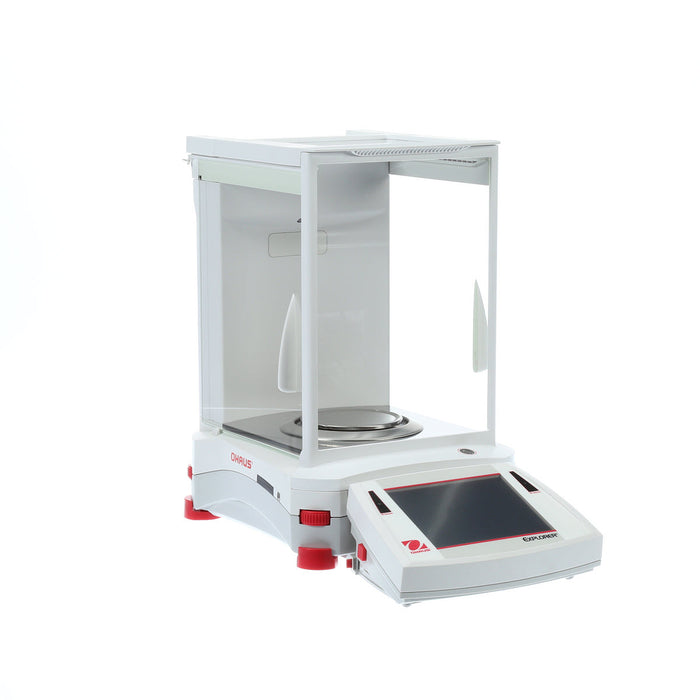 Ohaus Explorer Semi Micro EX225D, Strainless Steel, 120 g / 220 g x 0.01 mg; 0.1 mg
Original price
$9,032.00
-
Original price
$9,032.00
When precision and accuracy are paramount in laboratory work and research, the Ohaus Explorer Semi-Micro EX225D is the perfect balance.
With a maximum capacity of 120 g/220 g and a readability of 0.01 mg; 0.1 mg, this stainless steel balance ensures that your weighing results are accurate and consistent.


The Explorer series of semi-micro balances is equipped with advanced technology to meet the demands of sophisticated laboratories. The weighing cells are precision-machined from a solid metal block, guaranteeing exceptional accuracy and durability even in challenging laboratory and industrial environments. The AutoCalTM feature further enhances the precision by automatically calibrating the balance.

Designed for regulated applications, the Explorer balances offer top-notch security features. The four-level user management system with password protection ensures that only authorized personnel can access the balance. The un-editable system log also provides a clear audit trail for quality control purposes.

The Ohaus Explorer Semi-Micro EX225D is also incredibly user-friendly. The detachable terminal features a large color touchscreen for effortless navigation and programming. The programmable IR sensors enable hands-free operation, adding to the convenience. You can opt for a built-in Ionizer and automatic doors for added versatility. The frameless draft shield makes it easy to place and retrieve samples.

With a wide range of applications, including weighing, percent weighing, parts counting, check weighing, and more, the Explorer Semi-Micro EX225D is a versatile addition to any laboratory. The full-color VGA graphic display with a QWERTY keyboard and numeric keypad enables quick input of GLP and GMP data.

Constructed with a metal base, ABS top housing, stainless steel pan, and anti-static glass draft shield with a flip-top door, this balance is built to last. The automatic door feature adds another layer of convenience and ease of use.

With features like AutoCal™ fully-automatic internal calibration system, fast stabilization time, built-in ionizer, and stability indicator, the Ohaus Explorer Semi-Micro EX225D sets a new standard in accuracy and reliability.
Choose this analytical balance for precise measurements and reliable results every time.