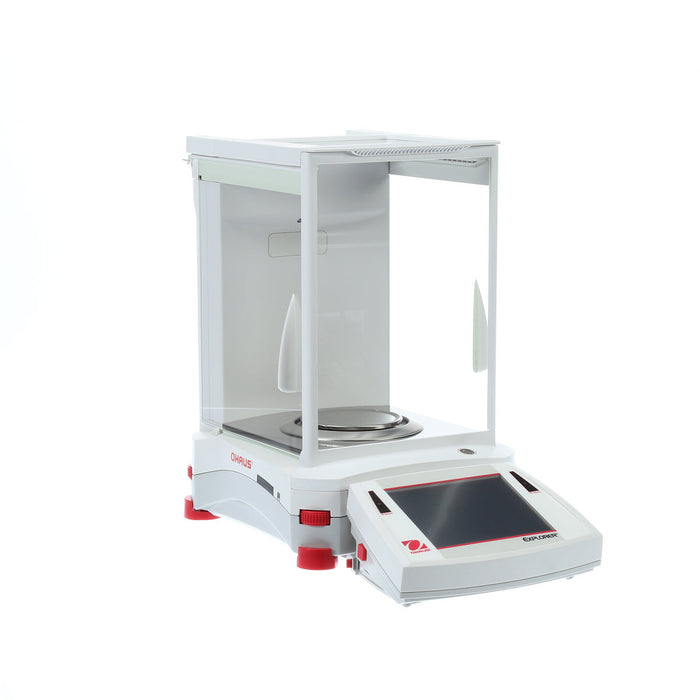 Ohaus Explorer Analytical EX224, Strainless Steel, 220 g x 0.1 mg
Original price
$5,842.00
-
Original price
$5,842.00
Introducing the Ohaus Explorer Analytical EX224, Stainless Steel, 220 g x 0.1 mg.
This exceptional balance from the renowned Ohaus brand combines cutting-edge features with a sleek design to deliver unparalleled functionality in the world of high-performance balances.


Precision is paramount regarding laboratory measurements, and the Explorer Series is good. With a weighing cell precision-machined from a solid metal block, this balance ensures accuracy and durability, ideally suited for laboratory and industrial environments.

One of the standout features of the Explorer Analytical EX224 is its intelligent design. It boasts a range of user-friendly functionalities that simplify even the most complex measurements. Say goodbye to manual calculations and tedious processes with the four-level user management system, complete with password protection. The un-editable system log provides an added layer of security, making this balance ideal for regulated applications.

Navigating through the various functions of the Explorer Analytical EX224 is effortless, thanks to its detachable terminal. This balance offers convenience and ease of use, featuring a large color touchscreen, programmable infrared sensors, automatic doors, and a frameless draft shield.

Versatility is another key attribute of this remarkable balance. It excels in various applications, including weighing, parts counting, percent weighing, check weighing, animal/dynamic weighing, filling, totalization/statistics, formulation, differential weighing, density determination, peak hold, ingredient costing, pipette adjustment, and SQC.

With a 5.7" full-color VGA graphic touchscreen display that allows user-controlled brightness adjustments, operating the Explorer Analytical EX224 is a breeze. It comes with an AC adapter for power supply and offers multiple communication options, including RS232 and USB connectivity (included), or a second RS232/Ethernet (accessories sold separately). The balance also features GLP/GMP data output with a real-time clock.

Crafted with a sturdy metal base, ABS top housing, stainless steel pan, and a glass draft shield with top-mounted side doors and flip/sliding top door, the Explorer Analytical EX224 is built to withstand the rigors of everyday use. It also includes an illuminated up-front level indicator, weigh below hook, security bracket, calibration lock, 4 touchless sensors, and an in-use cover for added convenience.

Additional design features such as selectable environmental filters, auto tare, user-selectable span calibration points, software lockout and reset menu, user-selectable communication settings and data print options, user-definable project and user IDs, auto standby mode, and support for up to 14 operating languages make the Explorer Analytical EX224 a genuinely versatile and customizable balance.

Choose the Ohaus Explorer Analytical EX224 for uncompromising accuracy, durability, and ease of use in all your laboratory weighing needs. Experience the unmatched functionality that sets this balance apart from the rest.