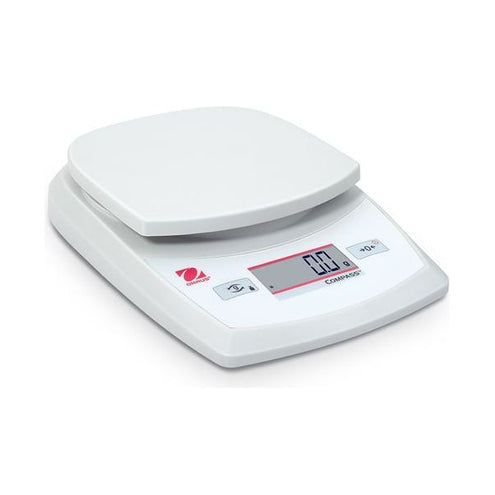 Ohaus 5.2"x5" CR Series Portable Balances CR621 620 g x 0.1 g
Original price
$152.00
-
Original price
$152.00
Introducing the Ohaus 5.2"x5" CR Series Portable Balances CR621, the perfect companion for all your weighing needs.
With its impressive maximum capacity of 620g and readability of 0.1g, this portable scale ensures accurate and precise measurements every time.

Designed with convenience, the CR621 features an intuitive two-button design that makes operation a breeze. There are no complicated instructions or confusing settings - just straightforward functionality at your fingertips. Whether you're a seasoned professional or a novice in the laboratory, this balance is user-friendly and easy to navigate.

The slim and space-saving design of the CR621 allows for stackable storage, saving you valuable workspace. Its compact size doesn't compromise performance, as the enlarged weighing platform can handle large samples and a variety of objects with ease. Say goodbye to limitations and hello to versatility.

Equipped with a vibrant Liquid Crystal Display (LCD), the CR621 provides clear visibility of your measurements, ensuring accurate readings even in low-light conditions. The display is easy to read and eliminates any guesswork, providing reliable results every time.

Powered by three AA batteries (included) or an AC adapter (not included), the CR621 offers flexibility in power options. Whether you're on the go or stationed in the lab, this scale has you covered.

Constructed with durable ABS housing and pan, along with a transportation lock and slip-resistant feet, the CR621 is built to withstand the rigors of daily use. It features stability indicators and mechanical and software overload/underload protection for added peace of mind. Plus, it has an auto shut-off feature to conserve battery life when not in use.

In summary, the Ohaus 5.2"x5" CR Series Portable Balances CR621 is a reliable and efficient weighing solution for laboratories, research facilities, or anyone in need of precise measurements.
With its intuitive design, excellent performance, and durable construction, this portable scale from Ohaus is a must-have for anyone in the scientific community.