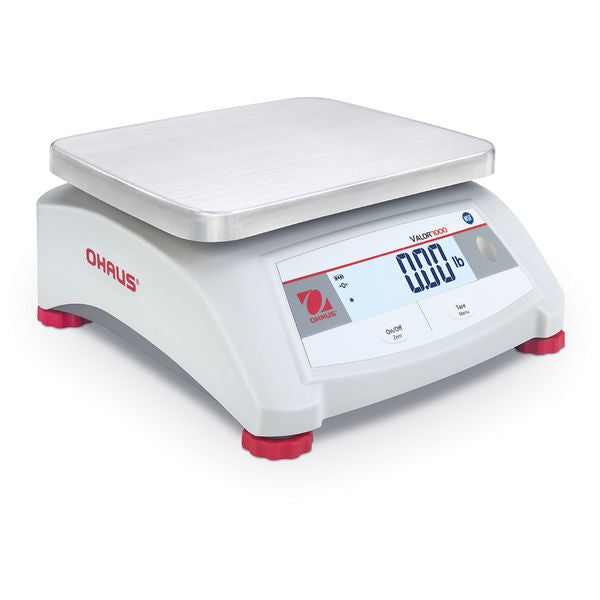 OHAUS 9.65" x 7.48" Valor 1000 V12P20T Food-safe Scale 50 lb x 0.02 lb
Original price
$267.00
-
Original price
$267.00
Introducing the OHAUS 9.65" x 7.48" Valor 1000 V12P20T Food-safe Scale, a must-have for any food preparation task.
With its NSF-certified and USDA AMS-accepted design, this scale fully supports HACCP systems, ensuring the highest standards of food safety.
The Valor 1000 is equipped with stainless steel pans and plastic in-use covers, offering you extra protection and peace of mind. No need to worry about batteries draining quickly, as this scale features an energy-efficient design that can operate for up to one year or 1,500 hours. Say goodbye to frequent battery replacements and hello to cost savings.
Simplify repetitive operations and increase operator efficiency with the intuitive two-button operation. Checking weights has never been easier or quicker. The Valor 1000 allows you to streamline your workflow, saving you time and effort.
This scale features an LCD display with a white backlight, ensuring clear visibility even in dimly lit environments. For the T models, there's a dual display for added convenience. Whether you prefer using D-cell alkaline batteries or a power adapter, the choice is yours. Additionally, you have the option to include an RS232 for seamless communication.
Constructed with an ABS housing and your choice of plastic or stainless steel pan, the Valor 1000 is built to withstand heavy-duty use. The integrated level bubble and adjustable feet ensure accurate measurements on any surface. Selectable weighing units provide flexibility based on your specific needs.
In summary, the OHAUS 9.65" x 7.48" Valor 1000 V12P20T Food-safe Scale is the perfect companion for any food-related task. Its reliable performance, energy efficiency, and user-friendly design make it a valuable addition to your kitchen or workspace.
Don't compromise on quality - choose the Valor 1000 today and experience precision weighing at its finest.