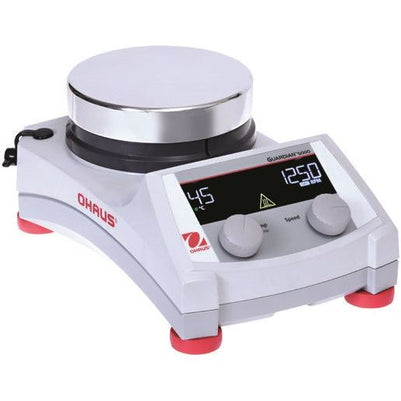 Analog Hotplate Stirrers Guardian 2000 E-G21HSRDS 115V 60Hz
Original price
$385.00
-
Original price
$385.00
Introducing the Analog Hotplate Stirrers Guardian 2000 E-G21HSRDS 115V 60Hz, a robust and reliable solution for all your heating and stirring needs in the lab.
With its exceptional performance and user-friendly design, this hotplate stirrer is the perfect addition to any laboratory setting.

Featuring model number G21HSRDS, this hotplate stirrer offers powerful stirring and fast heating at an economical price. With a maximum temperature of 500°C and a stirring capacity of up to 15L, it can handle a wide range of applications with ease. The easy-to-use knob control allows for simple and reliable everyday heating and stirring operations.

Built to withstand the demands of a busy lab environment, this hotplate stirrer is designed to last. The rugged metal housing provides durability and protection, while the spill-resistant design ensures a long lifetime, even under harsh conditions. The smooth ceramic top plate is not only chemical-resistant but also makes cleanup a breeze.

Safety is paramount in any lab setting, so this hotplate stirrer is equipped with a prominent hot top indicator light. This light illuminates when the heater exceeds 40°C, ensuring that users know potential hazards during heating applications.

Whether you need to boil liquids, prepare samples, dissolve buffers and reagents, or concentrate samples, this hotplate stirrer is up to the task. The green indicator lights indicate when the unit is heating and stirring, providing clear visibility during operation.

Constructed with convenience in mind, this hotplate stirrer features a simple knob control for easy operation. It can stir at speeds of up to 1600 rpm and reach temperatures of up to 500°C (ceramic top) or 380°C (ceramic-coated stainless steel top). The package includes a power cord, and stirring models come with a PTFE-coated stir bar.

With its durable metal housing, PET front panel, control knobs, ON/OFF switch for heater disconnect, and built-in support rod holder, this hotplate stirrer is designed for ease of use and convenience. The resin, ceramic, or ceramic-coated stainless steel tops are easy to clean, making maintenance a breeze.

Invest in the Analog Hotplate Stirrers Guardian 2000 E-G21HSRDS 115V 60Hz and experience the perfect blend of performance, reliability, and safety in your lab.
Trust in its exceptional features to enhance your everyday heating and stirring tasks effortlessly.