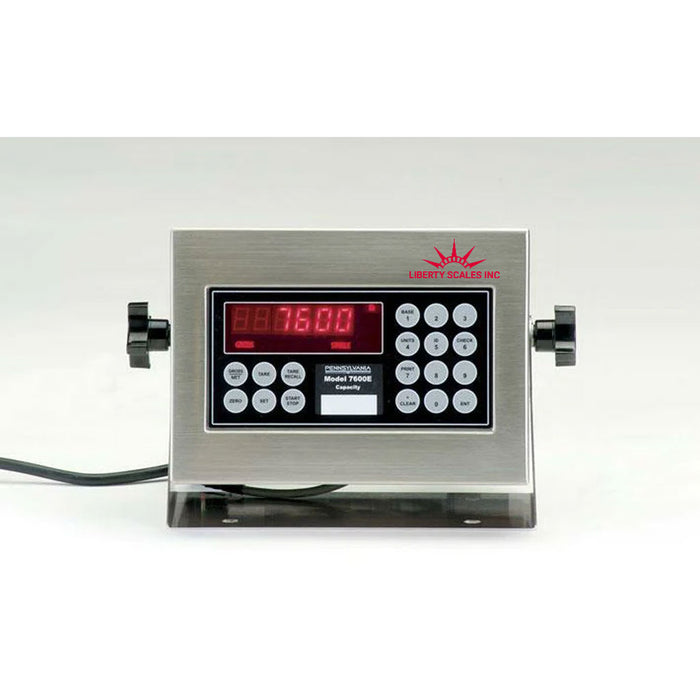 Liberty 7600 E Pennsylvania Scale Digital Indicator Series
Save

$500.00
Save

$500.00
Original price
$1,499.00
-
Original price
$1,499.00
Introducing the Liberty 7600 E Pennsylvania Scale Digital Indicator Series, a powerful and flexible solution for all your weighing needs.
With its wide range of outputs, options, and features, this state-of-the-art indicator is designed to adapt to even the most demanding applications.
Key Features:

Gone are the days of expensive programming and setup. The 7600E is remarkably user-friendly, making installation a breeze. Equipped with (2) programmable serial data ports as standard, this digital indicator ensures seamless communication with external devices.
But that's not all - the 7600E boasts an impressive 300 truck IN/OUT tare memories, allowing for efficient and accurate weighing processes. Its smart serial setup enables easy programming of serial data strings, while the calibration designed for batching/truck scales ensures precise measurements every time.
The Liberty 7600E offers optional analog output (4-20 mA/0-10 VDC) and digital relay I/O with menu-driven batching features for added convenience and versatility. It can drive up to (8) 350 ohm or (10) 1000 ohm load cells, providing reliable performance in any scenario.
Rest assured that the Liberty 7600E is built to last. Its proven PLUS+ Series Main Board fits all Pennsylvania brand products, ensuring compatibility and ease of integration. It also comes equipped with standard ESD and RFI shielding, guaranteeing accurate readings even in challenging environments. The stainless steel enclosure with a U-bracket mount adds durability and allows for flexible installation on walls or shelves.
With its pre-programmed batch and truck scale options, direct keyboard entry of setpoint values and tare weights, as well as NTEP and Canada approval for 10,000 divisions, the Liberty 7600E Pennsylvania Scale Digital Indicator Series is the ultimate choice for those seeking power, flexibility, and reliability in their weighing systems.
Choose Liberty scales for unparalleled accuracy and performance. Upgrade to the Liberty 7600E today and experience the difference it can make in your operations.
Shipping Policy:

We offer free shipping for business addresses within the contiguous 48 states. For residential delivery, a small additional fee of $100 applies. Lift gate services are also available for easy unloading, with an optional $50 charge if no forklift is available. People from Hawaii & Alaska can Contact us for personalized Shipping Quotes. Your satisfaction is our Top Priority! Kindly provide your contact number and company name for business purchases.