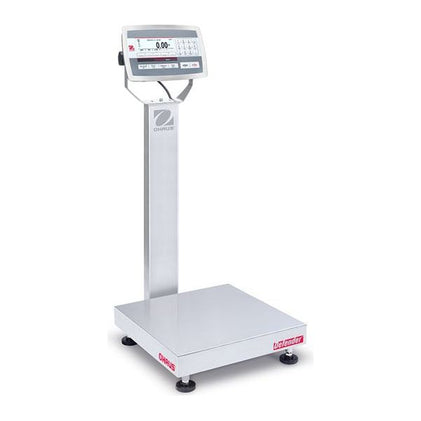 Ohaus Defender Bench Scales D52XW125WQL7, Legal for Trade, 250 lbs x 0.05 lb
Original price
$3,012.00
-
Original price
$3,012.00
Introducing the Ohaus Defender Bench Scale D52XW125WQL7, the ultimate weighing solution for your industrial needs.
With its user-friendly design and advanced features, this scale will revolutionize your weighing experience.

Equipped with an easy-to-use keypad and a large backlit display, this scale ensures effortless operation. The plain text on-screen prompts guide you through each step, eliminating confusion. Say goodbye to complicated setups and hello to simplicity.

Constructed with durability in mind, the Ohaus Defender Bench Scale features a stainless steel platform, frame, and IP68 indicator. The IP67 stainless steel load cell (NTEP/MC/OIML/EC Type single range) or aluminium load cell (OIML/EC Type dual range) further enhances its robustness. This scale can withstand even the harshest industrial environments.

But that's not all - this scale has incredible features to enhance productivity. It includes common industrial modes and supports a 50,000-item library with 1,000 user profiles for easy data management. The GMP/GLP with time/date function ensures accurate result traceability.

The Ohaus Defender Bench Scale is designed for versatility. It excels in various applications such as weighing, parts counting, per cent weighing, check weighing, and dynamic weighing with its display hold feature. Whatever your industry demands, this scale delivers.

Featuring a backlit liquid crystal display (LCD) with 256 x 80 pixels, the scale provides clear visibility in any lighting condition. Its internal power supply with a power cord or rechargeable battery option gives you flexibility in its usage.

Communication is made easy with the Ohaus Defender Bench Scale. It offers convenient access communication ports, including RS232 and Micro SD slot. Additional communication options like a second RS232/RS485/USB device, Ethernet and WiFi/Bluetooth are available as accessories.

Built with quality materials, this scale boasts a 304-grade stainless steel platform and frame. The stainless steel IP68 indicator and IP67 stainless steel load cell (single range) or aluminium load cell (dual range) ensure long-lasting performance. The non-slip adjustable rubber feet provide stability during operation.

With its impressive design features, the Ohaus Defender Bench Scale leaves no room for compromise. It offers a resolution of up to a dual range of 3,000e and a 150% overload capacity. The checkweighing display and beep, menu lock switch, selectable display languages, selectable filter, stability indicator, overload/underload indicators, selectable display controls, auto print, and tare functions make it a versatile and user-friendly scale.

Get ready to experience unparalleled accuracy and efficiency with the Ohaus Defender Bench Scale D52XW125WQL7. Whether in a laboratory, industrial setting, or any other weighing application, this scale is your reliable partner for precise measurements.
Choose the Ohaus Defender Bench Scale and take your productivity to new heights.