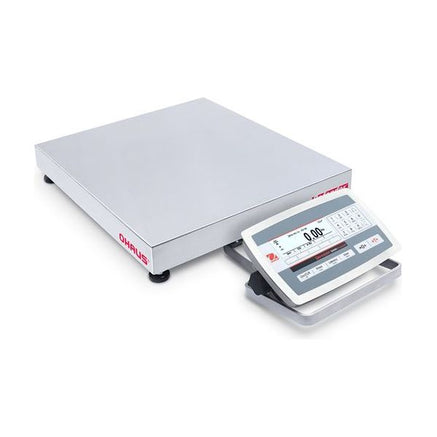 Ohaus Defender Bench Scales D52XW25WQL5, Legal for Trade, 50 lbs x 0.01 lb
Original price
$2,764.00
-
Original price
$2,764.00
Introducing the Ohaus Defender Bench Scale D52XW25WQL5, a versatile and user-friendly scale designed to meet all your weighing needs.
With its cutting-edge features and exceptional performance, this scale is perfect for various applications in manufacturing, laboratory research, and more.

The D52XW25WQL5 model boasts a user-friendly interface, making it incredibly easy to operate. The keypad is intuitive, allowing for hassle-free navigation, while the large backlit display ensures optimal visibility even in low-light conditions. Say goodbye to confusion with plain text on-screen prompts that guide you through every step of the operation.

Built to withstand the rigors of daily use, this scale is durably constructed with a stainless steel platform and frame. The IP68 indicator and IP67 stainless steel load cell (NTEP/MC/OIML/EC Type single range) or aluminum load cell (OIML/EC Type dual range) provide exceptional protection against moisture and dust, ensuring long-lasting reliability.

With its wide range of features, this scale offers unparalleled flexibility. It includes standard industrial modes such as weighing, parts counting, percent weighing, check weighing, and dynamic weighing with display hold. What's more, it supports a 50,000-item library and allows for easy data management with 1,000 user profiles. GMP/GLP with time/date functionality ensures traceability of results.

The backlit liquid crystal display (LCD) with 256 x 80 pixels delivers clear and precise readings. Power options include an internal power supply with a power cord (included) or a rechargeable battery (sold separately as an accessory), allowing you to choose the most convenient option for your needs.

Communication is made effortless with accessible access communication ports, including RS232 and Micro SD slot (included). Additionally, there is a second RS232/RS485/USB device port, Ethernet and WiFi/Bluetooth capabilities, and discrete I/O and analog output options (sold separately as accessories). The scale also offers GLP/GMP data output with a real-time clock for accurate record-keeping.

The Ohaus Defender Bench Scale D52XW25WQL5 is thoughtfully designed with a 304-grade stainless steel platform and frame, ensuring durability and longevity. Non-slip adjustable rubber feet provide stability during operation, while the resolution of up to dual range 3,000e and 150% overload capacity cater to a wide range of weighing requirements.

Additional features include a checkweighing display and beep, menu lock switch for added security, selectable display languages, selectable filter for precise measurements, stability indicator, overload/underload indicators, selectable display controls, auto print function for convenient documentation, and tare functionality for accurate measurements.

With its exceptional performance and robust construction, the Ohaus Defender Bench Scale D52XW25WQL5 is the ideal choice for professionals seeking accuracy and reliability in their weighing processes. Whether in a laboratory or a production facility, this scale will exceed your expectations.
Choose the Ohaus Defender Bench Scale D52XW25WQL5 for unmatched performance and peace of mind.