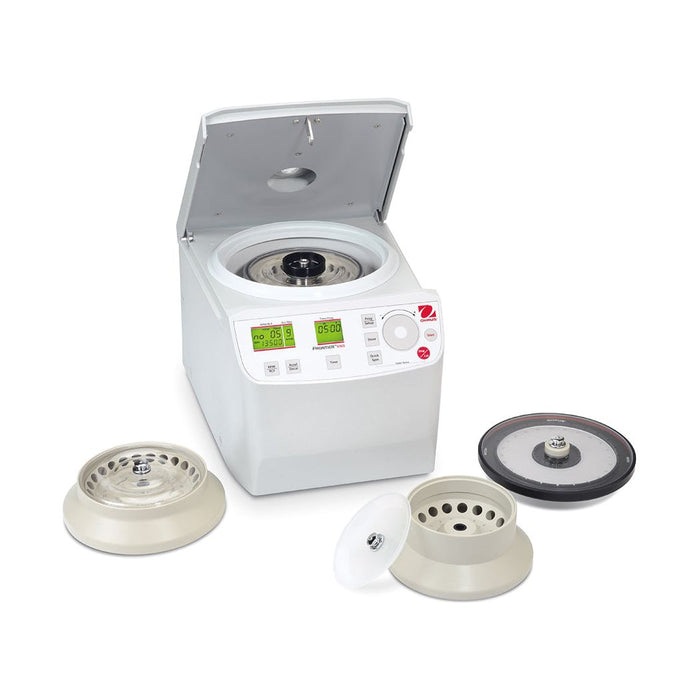 Ohaus Frontier Micro 5000, FC5513, 24 x 1.5 / 2.0 ml, 17,317 g – 230V
Original price
$2,030.00
-
Original price
$2,030.00
Introducing the Ohaus Frontier Micro 5000, FC5513, 24 x 1.5 / 2.0 ml, 17,317 g – 230V centrifuge - the perfect companion for your laboratory needs.
With its impressive maximum capacity of 17,317 g and a readability of 24 x 1.5 / 2.0 ml, this centrifuge offers exceptional functionality and versatility.

Equipped with rotors compatible with 1.5/2.0ml or 5ml microtubes, spin columns, PCR strips, cryo tubes, and hematocrit capillaries, the Ohaus Frontier Micro centrifuge ensures excellent performance and high throughput in various applications. Whether you're conducting research or running routine tests, this centrifuge can handle it all.

Designed with user convenience, the Frontier Micro centrifuge features intuitive controls on an easy-to-navigate interface. Even when wearing gloves, you can effortlessly operate this centrifuge and make adjustments without any hassle.

One of the standout features of the Frontier Micro centrifuge is its compact footprint. It may be small in size, but it packs a powerful punch. By saving valuable space on your lab bench, you can optimize your workspace and have more room for other essential equipment.

The LCD with backlight provides clear visibility and ensures that you can easily monitor the progress of your samples. With two display lines, you have all the information you need at your fingertips.

Powered by AC power (included), the Frontier Microcentrifuge is always ready for action. Its brushless, quiet motor ensures smooth and efficient operation without disturbing the tranquillity of your laboratory environment.

Safety is paramount in any lab setting, and the Frontier Micro centrifuge prioritizes it, too. With its multi-safety control system, you can have peace of mind knowing that your samples are secure during operation.

In addition to its impressive range of features, the Frontier Micro centrifuge also offers a personal program function. This allows you to save and recall your preferred settings, making repetitive tasks a breeze.

Whether you're working in a research facility, a hospital, or a university laboratory, the Ohaus Frontier Micro 5000 FC5513 centrifuge is a reliable and efficient choice.
Experience its exceptional performance and convenience for yourself and take your lab work to new heights.