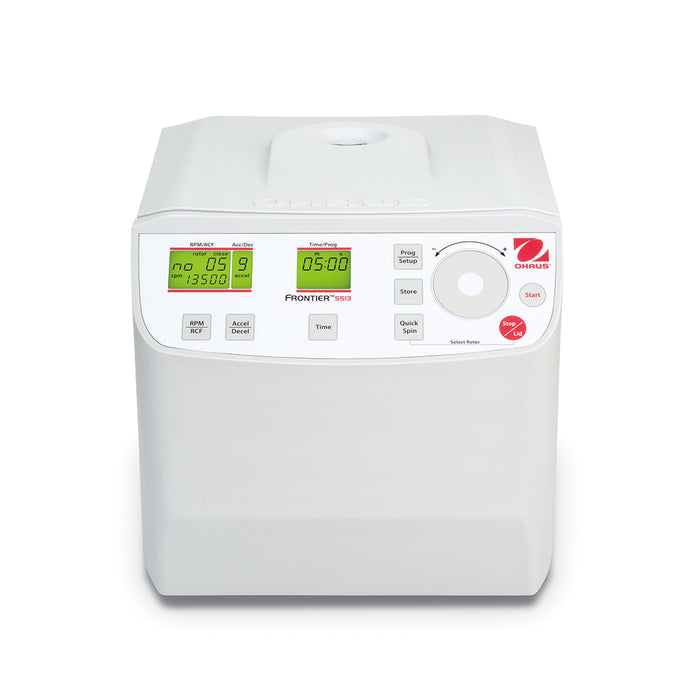 Ohaus Frontier Micro 5000, FC5513+R01 230V, 24 x 1.5 / 2.0 ml, 17,317 g – 230V
Original price
$2,200.00
-
Original price
$2,200.00
Introducing the Ohaus Frontier Micro 5000, FC5513+R01 230V centrifuge, a powerful tool to revolutionize your laboratory experience.
With its exceptional features and outstanding performance, this centrifuge is perfect for all your centrifugation needs.

The FC5513 model boasts an impressive maximum capacity of 17,317 g, ensuring that you can process large sample volumes with ease. The readability of 24 x 1.5 / 2.0 ml allows for precise measurements, accommodating a variety of microtubes and other lab vessels.

What sets the Ohaus Frontier Micro apart is its versatility. Whether working with rotors compatible with 1.5/2.0ml or 5ml microtubes, spin columns, PCR strips, cryo tubes, or hematocrit capillaries, this centrifuge delivers excellent functionality and high throughput options. Plus, it offers biocontainment options to ensure safe handling of hazardous samples.

Operating the Frontier Micro is a breeze, thanks to its intuitive interface and convenient controls. Even when wearing gloves, you can easily navigate through the settings and make adjustments effortlessly. The LCD with backlighting provides clear visibility of your selected parameters on two lines, enhancing your overall user experience.

Not only does the Frontier Micro deliver exceptional performance, but it also saves valuable space on your lab bench. Its compact footprint allows you to maximize your workspace without sacrificing functionality.

With its brushless quiet motor and advanced design features, this centrifuge ensures high sample throughput while maintaining optimal safety control. Additionally, the personal program function enables you to customize and save your preferred settings for future use.

Whether conducting research or performing routine procedures, the Ohaus Frontier Micro 5000, FC5513+R01 230V centrifuge is the ultimate solution for your laboratory needs. Experience efficiency, accuracy, and reliability like never before with this cutting-edge instrument. Take advantage of the opportunity to elevate your scientific endeavors with the Frontier Microcentrifuge.
Order yours today and unlock the true potential of your lab.