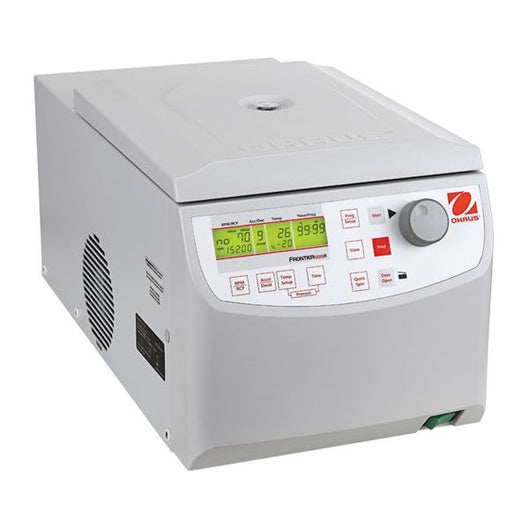 Ohaus Frontier Micro 5000, FC5515R, 44 x 1.5 / 2.0 ml;12 x 5 ml, 21,953 g – 120V
Original price
$6,390.00
-
Original price
$6,390.00
Introducing the Ohaus Frontier Micro 5000, FC5515R, a centrifuge that combines power and precision to revolutionize your lab work.
With a maximum capacity of 21,953 g and a readability of 44 x 1.5 / 2.0 ml and 12 x 5 ml, this centrifuge is the perfect companion for high-throughput tasks.

One of the standout features of the FC5515R is its excellent functionality when used with rotors compatible with 1.5/2.0ml or 5ml microtubes. Whether working with spin columns, PCR strips, cryo tubes, or hematocrit capillaries, this centrifuge has covered you. It offers biocontainment options, ensuring the safety of both you and your samples.

Designed with ease of operation in mind, the Frontier Micro centrifuge boasts convenient controls on an intuitive interface. Even wearing gloves, you'll experience a responsive process, allowing you to focus on your experiments without hindrance.

Not only does the FC5515R deliver exceptional performance, but it also saves valuable space on your lab bench. Its compact design ensures it can fit seamlessly into any workspace without compromising its functionality.

Equipped with an LCD with backlighting and two lines of text, the FC5515R provides clear and easy-to-read results at a glance. Thanks to its brushless, quiet motor, you can enjoy a peaceful working environment while achieving efficient and reliable centrifugation.

Safety is paramount when working in a lab setting, and the Frontier Micro centrifuge doesn't disappoint. With its multi-safety control system, you can be confident that your samples are protected throughout the entire process. Additionally, it offers a personal program function, allowing you to save your preferred settings for future use.

Incorporating all these features into one exceptional package, the Ohaus Frontier Micro 5000, FC5515R is the ideal centrifuge for any laboratory.
Experience the power, precision, and convenience that this centrifuge has to offer and elevate your research to new heights.