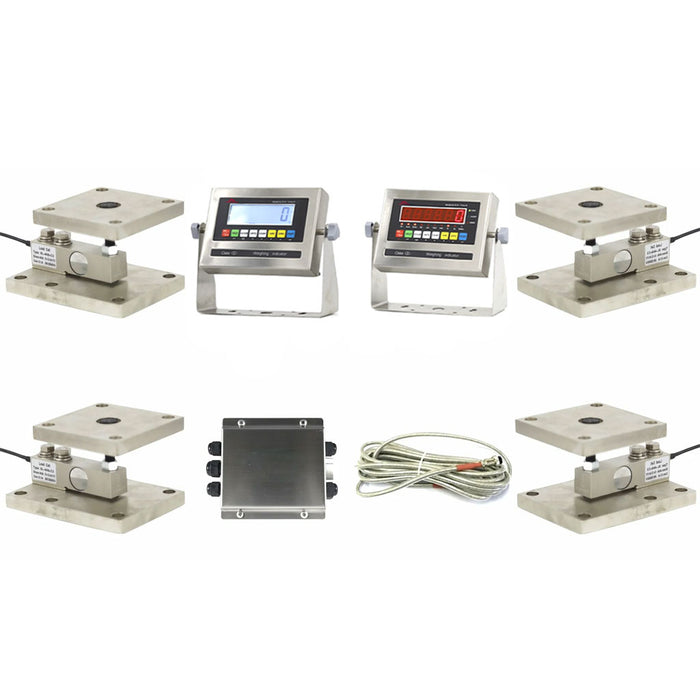 Liberty LS-730-TM Single ended shear beam Load cell Conversion kit weigh module for Scale Tank, Hoppers & vessels
Original price
$2,473.99
-
Original price
$4,452.99
Introducing the Liberty LS-730-TM Single-Ended Shear Beam Load Cell Conversion Kit Weigh Module – the perfect solution for transforming tanks, hoppers, vessels, and machinery into efficient scale units.

Designed by Liberty Scales, a trusted name in precision weighing technology, this conversion kit offers unparalleled accuracy and reliability.

The LS-730-TM Load Cell Conversion Kit includes high-quality load cells that are effortlessly mounted to the feet or bottom of your platform. Whether you need to monitor the weight of liquids, solids, or heavy machinery, this kit covers you.

Crafted from durable stainless steel, the load cells ensure long-lasting performance even in harsh environments. There is no need to worry about corrosion or damage – these load cells are built to withstand it all.

But that's not all. You will also receive a stainless steel indicator that provides clear and precise weight readings with your purchase. The included charger ensures that your indicator is always ready for use.

The LS-730-TM Load Cell Conversion Kit includes a connection cable and a stainless steel junction box with a 4-channel summing card to simplify installation and ensure seamless operation. Everything you need to convert your existing equipment into a reliable scale unit is included in this comprehensive package.

With Liberty Scales' load cell conversion kit, you can optimize your workflow and improve efficiency. Say goodbye to manual weighing processes and embrace the convenience of an automated system.
Key Features:
The single-ended (Plated Alloy Steel) load cells are at the core of this exceptional system. Crafted with utmost care and precision, these load cells provide unparalleled accuracy and durability. With an LS-7510 stainless steel LCD or LED indicator, you can easily monitor and track the weight with utmost clarity and convenience.
The stainless steel junction box with four channels ensures seamless connectivity and efficient data transmission. This innovative design eliminates any worries about compatibility issues or signal loss, allowing you to focus on what truly matters – accurate and consistent measurements.
We understand that peace of mind is essential when investing in a product like this. That's why we proudly offer a limited warranty of 5 years. Rest assured that your investment is protected, and our dedicated customer support team is always here to assist you.
When it comes to choosing the right load cell conversion kit, it's crucial to consider the total weight capacity. With Liberty LS-730-TM, we've got you covered. All our packages include the total weight capacity of all four load cells, ensuring optimal performance and reliability. Generally, it's best to have a 40% higher capacity than needed. This way, your load cells won't go under the stress of too much weight, guaranteeing accurate readings and longevity.
Load cells Specifications: 
With a safe overload capacity of 200% and a destructive load capacity of 300% F.S., you can rely on this load cell module to withstand even the most demanding conditions. Its robust construction ensures durability and longevity, making it a reliable investment for your business.

The Liberty LS-730-TM operates flawlessly within a wide range of temperatures, from -10°C to 40°C (14°F - 104°F). No matter the environment, you can trust that this load cell module will provide accurate measurements consistently.

This conversion kit ensures optimal performance and reliability by featuring an excitation recommendation of 10-15V AC/DC. The standard cable provided with the module is 20ft (6m) for weights ranging from 250-5k lbs and 40ft (12m) for weights between 10k-20k lbs, allowing for easy installation and flexibility in various setups.

With a rated output of 3.0mV/V and a load cell resistance of 350Ω Ohms, this load cell module delivers precise and reliable measurements every time. Say goodbye to inaccurate readings and hello to a new level of efficiency in your weighing processes.
Upgrade your weighing system with the Liberty LS-730-TM Single-Ended Shear Beam Load Cell Conversion Kit Weigh Module.
Trust in its exceptional performance, durability, and accuracy to enhance your operations and drive success.
Shipping Policy:

We offer free shipping for business addresses within the contiguous 48 states. For residential delivery, a small additional fee of $100 applies. Lift gate services are also available for easy unloading, with an optional $50 charge if no forklift is available. People from Hawaii & Alaska can Contact us for personalized Shipping Quotes. Your satisfaction is our Top Priority! Kindly provide your contact number and company name for business purchases.