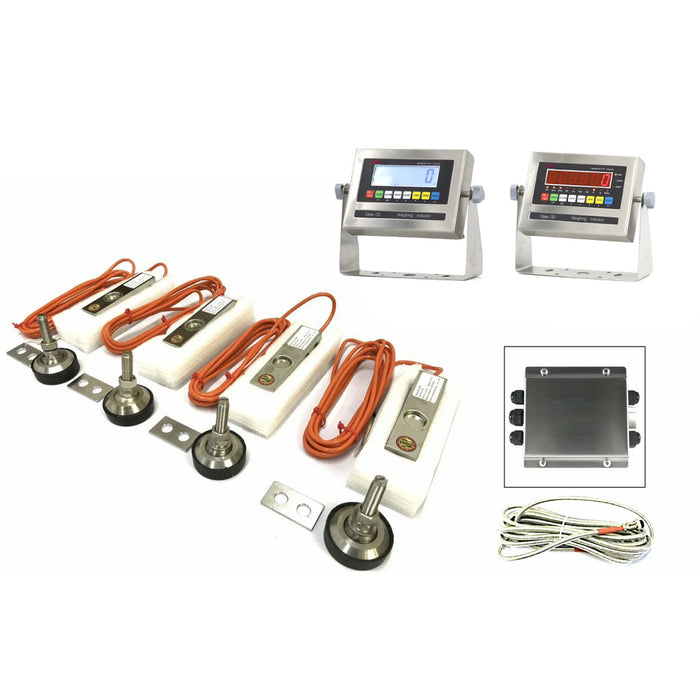 Liberty LS-720 Weighing Kit ( Multi-Purpose / Floor Scale ) NTEP / Legal for Trade
Original price
$499.00
-
Original price
$1,979.99
Introducing the Liberty LS-720 Weighing Kit, a versatile and reliable solution for all your weighing needs.
This multi-purpose floor scale is NTEP certified, making it legal for trade and ensuring accurate measurements every time.
Key Features:

Designed with safety and durability in mind, the load cell packages of the Liberty LS-720 are built to handle more weight than advertised. With a recommended capacity of 30%-40% higher than your requirements, you can trust that this weighing kit will withstand heavy loads without compromising accuracy.
One of the standout features of this kit is its flexibility. It provides everything you need to build your custom capacity scale, allowing you to use any platform material or size that suits your specific application. Whether you need to weigh liquids in tanks and hoppers or measure the weight of wooden boards, the Liberty LS-720 has got you covered.
Not only does this kit offer customization options for load cells, but it also allows you to upgrade parts and accessories according to your needs. As your business grows or your requirements change, you can easily expand or improve your weighing system without starting from scratch.
With 200% overload protection on the load cells, you can have peace of mind knowing that the Liberty LS-720 will withstand heavy usage and accidental overloads without compromising its performance. This feature ensures the longevity of your investment and keeps your operations running smoothly.
Introducing the Liberty LS-720 Weighing Kit, a versatile and reliable solution for all your weighing needs. This multi-purpose floor scale is NTEP and Legal for Trade, ensuring accurate measurements that meet regulatory standards.
The heart of this kit is the LS-7510 Indicator, a cutting-edge device that guarantees precise readings every time. Equipped with advanced technology, it ensures accurate weight measurements for a wide range of applications. With its easy-to-read display and intuitive interface, you can effortlessly monitor weights confidently.
Installing the Liberty LS-720 Weighing Kit is a breeze. With the included mounting hardware, you can effortlessly set up the scale in your desired location. The NTEP bright LED display has a wall-mounting stand, ensuring optimal visibility for operators and customers. Additionally, the RS-232 compatibility allows for easy data transfer, making inventory management a breeze.
The four NTEP load cells included in this kit are the backbone of its exceptional performance. These load cells are designed to withstand heavy loads and provide accurate readings with unparalleled precision. Whether you're weighing large shipments or delicate items, these load cells deliver consistent and reliable results.
Designed to withstand tough environments, this weighing kit features a NEMA-rated 4 port junction box and stainless steel construction. The four levelling feet ensure stability on any surface, while the 20-foot-long stainless steel shielded cable with quick disconnect provides installation flexibility.
Whether running a warehouse, shipping facility, or retail store, the Liberty LS-720 Weighing Kit is the perfect choice for accurate and reliable weight measurements. Invest in this high-quality solution and experience the convenience and efficiency it brings to your operations.
Shipping Policy:

We offer free shipping for business addresses within the contiguous 48 states. For residential delivery, a small additional fee of $100 applies. Lift gate services are also available for easy unloading, with an optional $50 charge if no forklift is available. People from Hawaii & Alaska can Contact us for personalized Shipping Quotes. Your satisfaction is our Top Priority! Kindly provide your contact number and company name for business purchases.
Trust in Liberty Scales to deliver exceptional performance that exceeds your expectations.