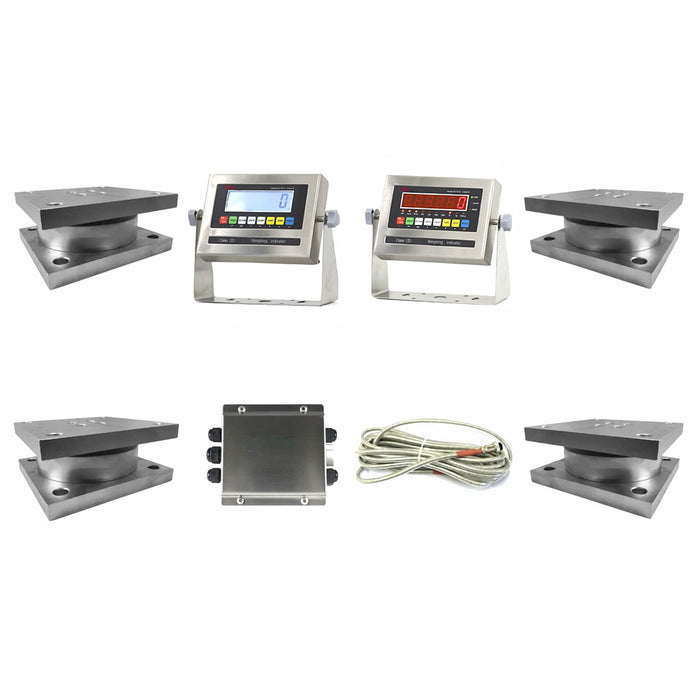 Liberty LS-352-TM Low profile Load cell Conversion kit (Tank Mount, Hopper, Vessel, Truck Scale)
Original price
$3,794.99
-
Original price
$20,624.99
The Liberty LS-352-TM Low Profile Load Cell Conversion Kit is the ultimate solution for transforming hoppers, vessels, tanks, and truck scales into efficient weighing systems.
With Liberty's innovative tank mounts, you can unlock the full potential of your equipment and enhance productivity like never before.

Key Features:
Designed with precision and reliability, this conversion kit includes four load cells seamlessly mounted to the feet or bottom of your platform. The load cells ensure accurate weight measurements, allowing you to monitor and control your inventory easily.
With an LS-7510-SS stainless steel indicator, charger, connection cable, and a stainless steel junction box featuring a 4-channel summing card, this package has everything you need to get started.
One of the standout features of the LS-352-TM is its impressive total weight capacity. As per Liberty's recommendation, having a load cell capacity that exceeds your actual needs by 40% is always best. This ensures that the load cells do not endure excessive stress from heavy weights, ensuring their longevity and accuracy over time.
The LS-352-TM Low Profile Load Cell Conversion Kit is part of Liberty's renowned range of scales and load cell solutions. Crafted with utmost precision and backed by years of expertise, Liberty products are trusted by industries worldwide for their durability and accuracy.
Whether you're managing a bustling warehouse or overseeing a large-scale operation, the LS-352-TM will revolutionize your weighing process. Say goodbye to guesswork and hello to precise measurements with Liberty's superior load cell conversion kit.
With a rated output of 4.0mV/V, the Liberty LS-352-TM ensures precise and consistent weight readings. Its load cell resistance of 350OHMS guarantees optimal signal transmission, minimizing interference or distortion. The included 60 ft (18M) load cell cable provides ample length for flexible installation in any setup.
Safety is a top priority, so the Liberty LS-352-TM is engineered with a safe overload capacity of 150% F.S. You can trust this load cell conversion kit to withstand heavy loads without compromising accuracy or durability. It can handle destructive loads up to 300% F.S., ensuring long-lasting performance in the most demanding environments.
To ensure reliable and consistent operation, the Liberty LS-352-TM requires an excitation voltage of 10~15V AC/DC. This recommended range guarantees optimal performance and accurate weight measurements. Additionally, this load cell conversion kit operates flawlessly in temperatures ranging from -20°C to 60°C (-4°F to 140°F), making it suitable for various industrial environments.
When you choose the Liberty LS-352-TM Low Profile Load Cell Conversion Kit, you're investing in quality. Backed by a generous 5-year warranty, you can have peace of mind knowing that your purchase is protected. Trust in Liberty Scales' expertise and experience to deliver exceptional weighing solutions that exceed your expectations.
Upgrade your weighing system today with the Liberty LS-352-TM Low Profile Load Cell Conversion Kit. Experience superior accuracy, durability, and reliability like never before.
Shipping Policy:

We offer free shipping for business addresses within the contiguous 48 states. For residential delivery, a small additional fee of $100 applies. Lift gate services are also available for easy unloading, with an optional $50 charge if no forklift is available. People from Hawaii & Alaska can Contact us for personalized Shipping Quotes. Your satisfaction is our Top Priority! Kindly provide your contact number and company name for business purchases.
Don't settle for anything less than excellence when it comes to precision weighing. Choose Liberty Scales, the industry leader in load cells and weighing technology.