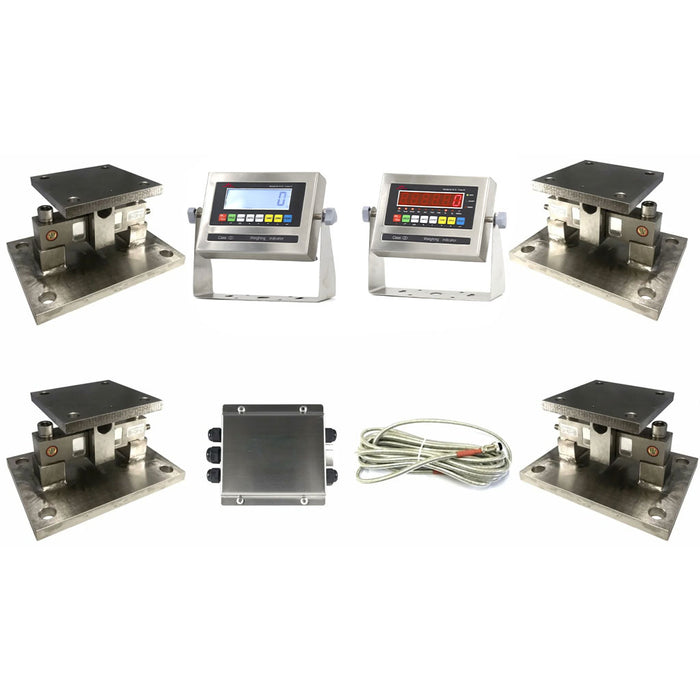 Liberty LS-350-TM (NTEP) Heavy Duty Weighing module for Tanks, Hoppers, Vessels & Truck Scales
Original price
$3,794.99
-
Original price
$21,449.99
Introducing the Liberty LS-350-TM (NTEP) Heavy Duty Weighing module for Tanks, Hoppers, Vessels & Truck Scales.
Transforming tanks, hoppers, vessels, and machinery into efficient scale units has always been challenging with Liberty's LS-350-TM weighing modules.

Designed for heavy-duty applications, these load cells are built to withstand the toughest conditions. With both sides of the load cell securely mounted to the bottom plate, you can trust in the stability and accuracy of your measurements. Whether you're weighing large tanks or heavy-duty machinery, this kit is up to the task.
Key Features:
The LS-350-TM weighing module has a stainless steel indicator, charger, connection cable, and junction box. The 4-channel summing card included in this package ensures precise readings for all your weighing needs.
With Liberty Scales' load cell conversion kit, you can easily upgrade your equipment to a state-of-the-art weighing system. Say goodbye to manual calculations and unreliable measurements. This kit provides the accuracy and efficiency you need to streamline your operations.
Experience peace of mind knowing that all Liberty products are designed and manufactured with quality in mind. We prioritize customer satisfaction and strive to deliver products that exceed expectations.
The double-ended load cell beam ensures precise weight measurement with minimal deflection, making it perfect for heavy-duty applications. This load cell system is built to withstand harsh environments, thanks to its IP67 rating that protects against dust and water ingress.
Equipped with an LS-7510 stainless steel LCD or LED indicator, the Liberty LS-350-TM ensures clear and easy-to-read weight measurements. The display is designed to withstand the rigors of industrial settings, ensuring reliable performance even in demanding conditions.
This weighing module offers seamless connectivity and integration with your existing system with the included stainless steel junction box featuring four channels. The junction box provides a secure and organized connection for up to four load cells, allowing for accurate weight readings.
Investing in the Liberty LS-350-TM provides peace of mind and a remarkable 5-year warranty. This demonstrates the manufacturer's confidence in the product's quality and durability.
Please note that as a general rule, having a capacity that is 40% higher than your actual requirements is recommended. This ensures that the load cells do not experience excessive stress from excessive weight.
 Shipping Policy:

We offer free shipping for business addresses within the contiguous 48 states. For residential delivery, a small additional fee of $100 applies. Lift gate services are also available for easy unloading, with an optional $50 charge if no forklift is available. People from Hawaii & Alaska can Contact us for personalized Shipping Quotes. Your satisfaction is our Top Priority! Kindly provide your contact number and company name for business purchases.
Upgrade your weighing system today with this outstanding load cell conversion kit. Trust Liberty scales for all your industrial weighing needs.