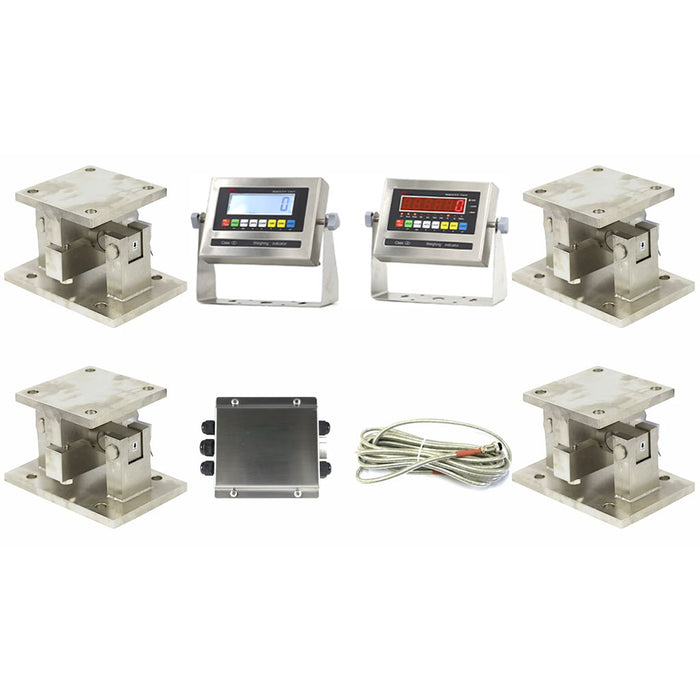 Liberty LS-313-TM Load cell Conversion kit weigh module for Scale Tank, Hoppers ( Double Ended Beam )
Original price
$3,499.00
-
Original price
$21,449.99
Transform your tanks, hoppers, and machinery into efficient scale units with the Liberty LS-313-TM Load Cell Conversion Kit.
Key Features:
This double-ended beam load cell kit is designed to provide accurate weight measurements for various applications.
With the Liberty LS-313-TM Load Cell Conversion Kit, you'll receive everything you need to get started. The load cells are easily mounted to the feet or bottom of your platform, ensuring stability and precision.
This kit includes the LS-7510-SS Stainless Steel Indicator, charger, connection cable, and a Stainless Steel junction box with a 4-channel summing card. You'll have all the tools to integrate this load cell system into your existing setup seamlessly.
One of the standout features of this conversion kit is its impressive weight capacity. With a total capacity that exceeds your needs by 40%, you can trust that these load cells won't be under undue stress from heavy loads. This ensures accurate and reliable weight measurements every time.
At Liberty, we stand behind the quality of our products. We offer a generous 5-year LS-313-TM Load Cell Conversion Kit warranty. Knowing that your investment is protected against unforeseen issues, you can have peace of mind.
Whether in the manufacturing industry or operating a storage facility, the Liberty LS-313-TM Load Cell Conversion Kit is an essential tool for accurate weight measurements. Trust in the reliability and precision of Liberty scales and take your operations to the next level.
Shipping Policy:

We offer free shipping for business addresses within the contiguous 48 states. For residential delivery, a small additional fee of $100 applies. Lift gate services are also available for easy unloading, with an optional $50 charge if no forklift is available. People from Hawaii & Alaska can Contact us for personalized Shipping Quotes. Your satisfaction is our Top Priority! Kindly provide your contact number and company name for business purchases.
Upgrade your equipment today with the Liberty LS-313-TM Load Cell Conversion Kit and experience the difference in efficiency and accuracy.