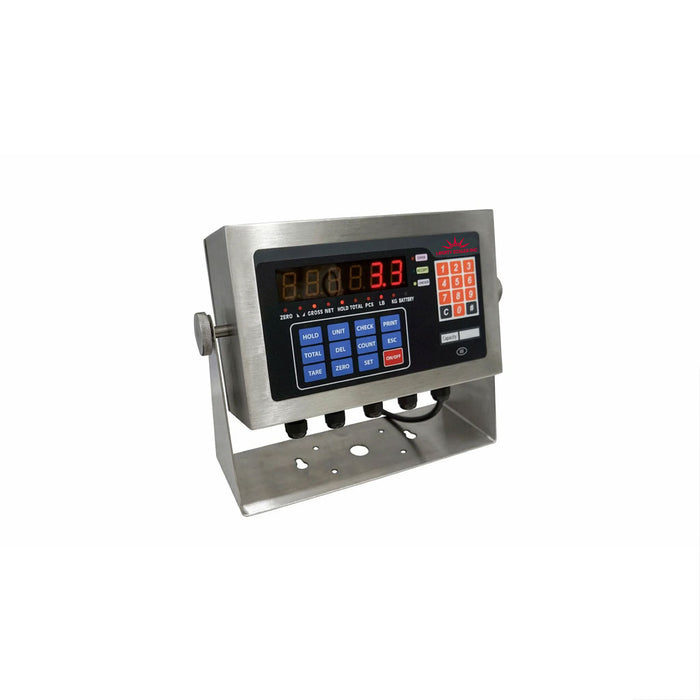 Liberty LS-905 Full numeric keypad Indicator IP67
Original price
$1,153.99
-
Original price
$1,153.99
The Liberty LS-905 Full Numeric Keypad Indicator IP67 is the perfect solution for all your industrial weighing needs.
With its comprehensive features and durable construction, this indicator is built to excel in even the toughest conditions.

Key Features:
Featuring a full numeric keypad, the LS-905 allows easy tare entry directly from the keypad itself. Say goodbye to scrolling and toggling between weight values when weighing the contents of totes, cylinders, and containers. This streamlined process eliminates unnecessary hassle and saves valuable time.
Equipped with a count mode, this indicator enables keyed piece count and APW (average piece weight). This feature ensures accurate inventory management and efficient production processes. Whether counting small components or larger items, the LS-905 has got you covered.
Encased in a robust stainless steel NEMA 4X/IP67 enclosure, this indicator is built to withstand the harshest environments. Its rugged construction guarantees longevity and reliability, making it an ideal choice for industrial applications.
The LS-905 boasts an ultra-bright, oversized LED display that minimizes operator error and enhances productivity. With clear visibility in any lighting condition, reading and recording weight measurements becomes effortless.
Designed for seamless integration into your existing systems, this indicator offers three RS-232 ports, one RS-485 port, and one USB port for complete communication versatility. Additionally, it provides full EDP and print ticket programmability, allowing you to customize your data output as needed.
With its eleven-button operation and ergonomic design, the LS-905 ensures easy use for operators of all skill levels. The stainless steel washdown enclosure with U-bracket mount adds convenience during cleaning and installation.
Incorporating advanced features such as gross/net weighing, tare functionality, piece count capabilities, and records memory, the Liberty LS-905 Full Numeric Keypad Indicator IP67 guarantees accurate measurements and efficient operations.
Take control of your industrial weighing tasks with this reliable and versatile indicator.
Shipping Policy:

We offer free shipping for business addresses within the contiguous 48 states. For residential delivery, a small additional fee of $100 applies. Lift gate services are also available for easy unloading, with an optional $50 charge if no forklift is available. People from Hawaii & Alaska can Contact us for personalized Shipping Quotes. Your satisfaction is our Top Priority! Kindly provide your contact number and company name for business purchases.