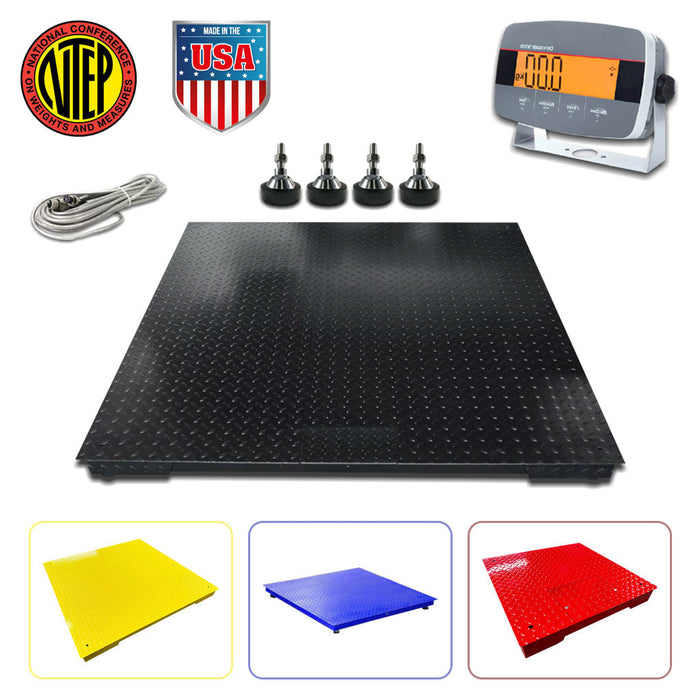 Liberty LS-900-2x2 NTEP Certified USA Made Floor Scales | 24" x 24" | Capacity of 1000 lbs, 2500 lbs, 5000 lbs, 10000 lbs & 20000 lbs
Original price
$999.00
-
Original price
$1,999.00
Introducing the Liberty LS-900-2x2 NTEP Certified USA-Made Floor Scale, the ultimate solution for your industrial weighing needs. This top-of-the-line floor scale offers unparalleled quality, durability, and functionality to streamline operations.

Key Features:
With its compact size of 24" x 24", the LS-900-USA Floor Scale is designed to fit seamlessly into your workspace without compromising performance.
Crafted from welded steel with a sturdy tread plate construction, this scale is built to withstand heavy-duty use in even the harshest industrial environments.
Equipped with the LS-7510 NTEP Indicator, this floor scale provides accurate and reliable measurements every time.
The NTEP 6-digit, 1" display indicator ensures clear visibility of weight readings, allowing for quick and efficient data analysis.
Plus, with its built-in RS-232 communication port, you can easily connect the scale to your existing systems for seamless data integration.
Safety is a top priority, so the LS-900-USA Floor Scale has 200% overload protection. This feature ensures that your scale remains intact even in extreme circumstances, preventing potential damage or accidents.
The 20' long heavy-duty metal shielded cable provides optimal connectivity between the scale and the indicator.
We understand convenience is key, so the LS-900-USA Floor Scale includes a rechargeable battery option. This allows you to use the scale anywhere in your facility without worrying about power outlets.
The lb/kg selectable option on the indicator ensures that you can measure weight in your preferred unit of measurement.
Rest assured that you are investing in a reliable and durable product, as the LS-900-USA Floor Scale has a 5-year warranty. Our commitment to quality extends beyond just the warranty - each scale is factory-calibrated to ensure accurate readings.
Choose confidence and precision with the Liberty LS-900-2x2 NTEP Certified USA-Made Floor Scale. Experience the difference between a scale designed to meet your operational needs and backed by a trusted brand.
Shipping Policy:
We offer free shipping for business addresses within the contiguous 48 states. For residential delivery, a small additional fee of $100 applies. Lift gate services are also available for easy unloading, with an optional $50 charge if no forklift is available. People from Hawaii & Alaska can Contact us for personalized Shipping Quotes. Your satisfaction is our Top Priority! Kindly provide your contact number and company name for business purchases.
Upgrade your industrial weighing capabilities today and witness the efficiency and accuracy that this floor scale brings to your workspace.