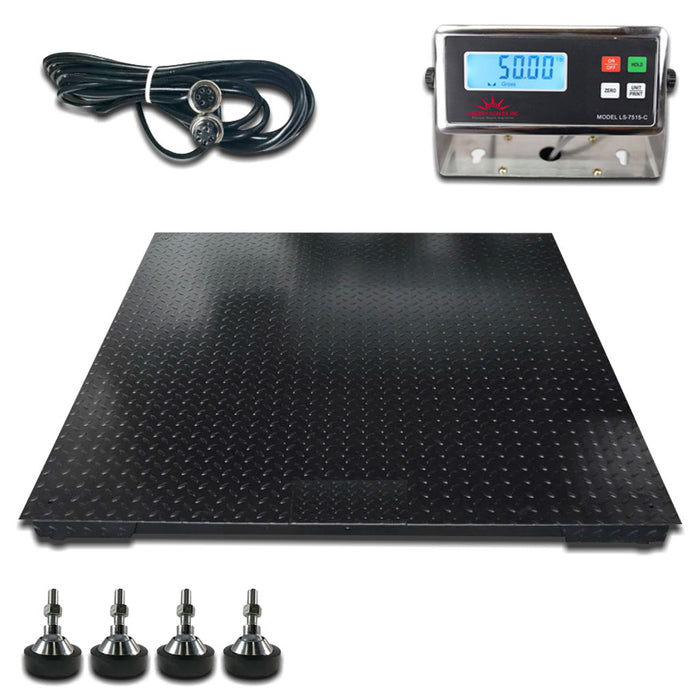 Liberty LS-700-4X5 Heavy Duty General Purpose Floor Scale | 48" x 60" | Capacity of 1,000 lbs, 2,500 lbs, 5,000 lbs & 10,000 lbs
Original price
$1,000.00
-
Original price
$1,499.00
Introducing the Liberty LS-700-4X5 Heavy Duty General Purpose Floor Scale - Where Precision Meets Versatility!
 Key Features
✔ Unmatched Capacity & Precision:
Take control with our impressive capacity options: 1,000 lbs, 2,500 lbs, 5,000 lbs, and a robust 10,000 lbs, all offering unbeatable accuracy.
Your go-to for precise weighing every single time!
✔ Efficiency Unleashed:
Redefine efficiency in your industry with our compact and versatile 4' x 5' (48" x 60") industrial floor scales.
These scales are designed to excel in various applications, effortlessly streamlining processes from shipping to custom operations, making them the ultimate multi-purpose tool for your business.
✔ Fully Tailored to Your Needs:
Our 4' x 5' industrial floor scales are not just scales but are entirely customizable to match your unique operational requirements.
Whether you run a bustling manufacturing plant, a dynamic warehouse, or a thriving shipping company, these scales deliver precise measurements to enhance productivity and reduce errors.
✔ Built to Last:
Our commitment to quality and innovation shines through these 48" x 60" industrial scales.
Compact enough to fit into tight spaces yet built robust enough to tackle heavy-duty tasks, these scales are meticulously crafted with your business in mind.
Scale Base Details:
Size: 48" x 60"
Equipped with high-precision load cells for even weight distribution.
Sturdy ball-joint feet provide stability on any surface.
Crafted from robust carbon steel.
Offers an impressive 200% overload protection for peace of mind.
Welded steel with a durable tread plate construction guarantees industrial-grade quality.
Factory-calibrated for immediate, reliable precision.
Backed by a robust 5-year warranty, ensuring dependable long-term performance.
Indicator:
LS-7515-C Stainless Steel
Shipping Made Easy:
FREE SHIPPING: Enjoy complimentary shipping to business addresses within the contiguous 48 states of the US.
Residential Delivery: Opt for the convenience of home-based operations with an additional $100 shipping fee.
Lift Gate Services: No forklift? No problem! Choose the lift gate service for just $50.
📞 Personalized Service:
To expedite your purchase, kindly provide your phone number and company name if you're buying for your business. Our dedicated customer support team is here to assist you every step of the way.
Invest in Liberty Floor Scales for unparalleled precision, reliability, and the convenience you deserve. Experience seamless shipping and ensure you select the appropriate scale components for your specific requirements.
Contact us today to revolutionize your weighing operations with human care!