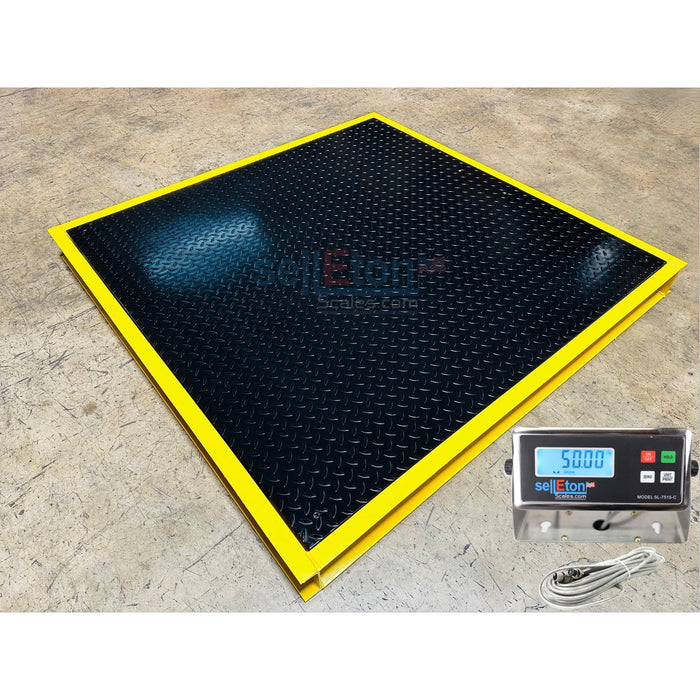 Liberty 36" x 36" ( 3' x 3' ) Floor Scale with Pit Frame, for above & in-ground use.
Original price
$1,148.00
-
Original price
$2,597.99
The LS-700 Series floor scales from Liberty are designed to provide accurate and reliable weight measurements in various industrial and commercial applications. This particular listing comes with our LS-700-series floor scale and a pit frame. Such a setup is used to have the scale protected & flush on any surface. In addition, it is used to place a scale in-ground with a proper leveling pit frame around it. The floor scale feet are also swivel & adjustable to create the most accurate & leveled structure. 
What sets the LS-700 Series apart from other floor scales on the market is the ability to customize the scale and pit frame to meet the specific needs of your business. Liberty Scales understands that no two operations are alike, so they offer this level of customization to their customers. Whether you need a specific size or shape or want to add additional features to the scale, Liberty can help you design a floor scale that meets your unique requirements.
Indicator feature: 
Smooth indicator shape with steady performance PCB board, is suitable for industrial or commercial use
Multiple weighing units: (lb/oz/kg)
Gross/Tare/Zero
Low power design, longer battery usage time
The hold function locks the weight
Idle mode and automatic power-off function
Low-battery detection and warning
6 digits 0.7" tall LCD with backlight
Splash-proof

 

keyboard and display
RS232 Output
Prints on a Liberty LS-25-T Printer

 

Stainless steel wall mount bracket included
LS-700-Series Floor scale:
Highest quality platform scale for industrial use
Welded steel with a tread plate construction
200% overload protection
15' long pvc cable for indicator
Includes indicator with lb/kg selectable, rechargeable battery option
6 digits, 1" display
Built-in RS-232 communication port
Factory Calibrated

 

Overload Protection
Non-NTEP ( Legal for trade ), NTEP ( LS-800) versions Available.

 

5-year warranty on parts
Information about Pit-Frame: 
When you flush a floor scale or install in-ground, pit frames are the best solution!  
This pit frame could be used in Heavy duty construction to support rough handling.
Available in a variety of sizes

 

Can be installed in a pit or outfitted with available steel ramps
Carbon Steel
In-ground or above ground
Made in USA
Attention: 
If you are going to use the scale outdoors, you Must have Stainless Steel indicator, Stainless steel Load cells & Stainless steel junction box. This is to reduce / Eliminate chances of rust & Error in readings. 
Scales are not waterproof "AS IS," but we could upgrade it, So in case you leave it in the rain or if you are located in the region of the country that is humid, it can still operate. 
FREE SHIPPING to a business address in US 48 continental States. 
$100 Extra shipping cost to residential. 
$50  Extra for lift gate services. So if you don't have a forklift or loading dock, you will need this service.