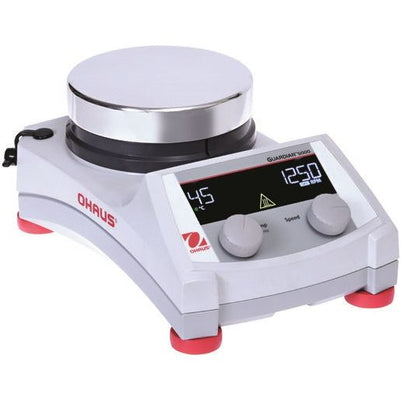 Digital Hotplate Stirrers Guardian 3000 e-G31HS07C 230V
Original price
$410.00
-
Original price
$410.00
Introducing the Digital Hotplate Stirrers Guardian 3000 e-G31HS07C 230V - the ultimate lab companion that combines safety, precision, and convenience.
With its innovative features and user-friendly design, this hotplate stirrer is a must-have for any laboratory.

One of the standout features of the Guardian 3000 is its SafetyHeat™ technology. This cutting-edge system utilizes two independent safety controls to continuously monitor the electronics and prevent overheating. With this advanced early detection system, you can have peace of mind knowing that your lab and experiments are protected.

When it comes to stirring, this hotplate stirrer delivers unparalleled performance. Thanks to its powerful motor, strong magnet, and software-controlled ramp rate, you can achieve precise stirring speeds ranging from 60 to 1600 rpm. Whether you're working with viscous solutions or delicate samples, the secure magnetic coupling ensures efficient and reliable mixing.

Monitoring the temperature and speed settings is a breeze with the bright LCD. Featuring intuitive icons and large readouts, you can easily keep track of performance from anywhere in the lab. The display also includes a prominent hot top indicator, ensuring you know of potential hazards.

The versatility of the Guardian 3000 makes it suitable for a wide range of applications. From boiling water and preparing solutions to dissolving buffers and concentrating samples, this hotplate stirrer has got you covered. And with its easy-to-clean ceramic or aluminum tops, maintenance is a breeze.

Built with durability, the Guardian 3000 features a SmartHousing™ that stays cool to the touch and is resistant to chemicals. Its IP21 Ingress Protection ensures reliable performance even in demanding environments. Additionally, this hotplate stirrer comes with a built-in support rod holder for added convenience.

With its hot top indicator light, audible alarm, and SafetyHeat™ protection, the Guardian 3000 prioritizes your safety at every step. And for added convenience, it offers a temperature calibration feature for three probe and three plate setpoints.

Invest in the Digital Hotplate Stirrers Guardian 3000 e-G31HS07C 230V and experience the perfect blend of safety, precision, and convenience in your lab.
Order yours today and elevate your scientific endeavors to new heights.