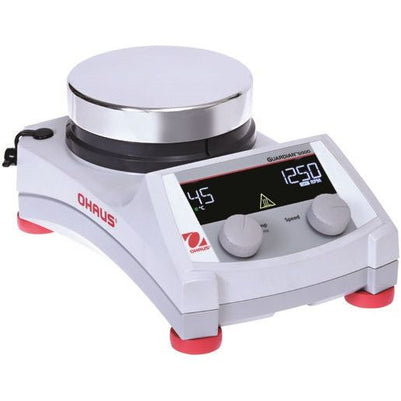 Digital Hotplate Stirrers Guardian 3000 e-G31HS04C 115V
Original price
$410.00
-
Original price
$410.00
Introducing the Digital Hotplate Stirrers Guardian 3000 e-G31HS04C 115V, a cutting-edge lab tool that combines safety and precision for all your stirring needs.
This model, G31HS04C, is equipped with advanced features that set it apart from the competition.

The standout feature of the Guardian 3000 e-G31HS04C is its SafetyHeat™ system. This innovative technology utilizes two independent safety controls to constantly monitor the electronics, preventing any overtemperature conditions before they occur. With this industry-leading early detection system, you can have peace of mind knowing that your lab is protected.

When it comes to stirring, this hotplate stirrer delivers impeccable performance. Thanks to its powerful motor, strong magnet, and software-controlled ramp rate, it provides precise stirring from 60 to 1600 rpm. Whether you're working with viscous applications or need to dissolve buffers and reagents, the Guardian 3000 e-G31HS04C ensures a secure magnetic coupling for optimal results.

Monitoring the performance of this hotplate stirrer is effortless, thanks to its bright LCD display. The display features large temperature and speed settings, intuitive icons, and a prominent hot top indicator light. With just a glance from across the lab, you can easily keep track of your experiments and make adjustments as needed.

Versatility is key with the Guardian 3000 e-G31HS04C. It can be used for a variety of applications including boiling water, water/oil bath preparation, sample and solution preparation, media preparation, and sample concentration. Whatever your task may be, this hotplate stirrer is up for the challenge.

Constructed with durability in mind, the Guardian 3000 e-G31HS04C features a SmartHousing™ that stays cool to the touch and is resistant to chemicals. The polycarbonate front panel, control knobs, and built-in support rod holder add to its convenience. Cleaning is a breeze with the easy-to-clean ceramic or aluminum tops.

In addition to its exceptional features, the Guardian 3000 e-G31HS04C also boasts a hot top indicator light and an audible alarm for added safety. With its SafetyHeat™ protection, the heater will automatically shut off in the event of a malfunction. And with the temperature calibration feature, you can ensure accurate readings for up to three probe and plate setpoints.

Upgrade your lab equipment with the Digital Hotplate Stirrers Guardian 3000 e-G31HS04C 115V.
With its unrivaled safety features, precise stirring capabilities, and user-friendly design, it is the perfect companion for any lab professional seeking excellence in their experiments.