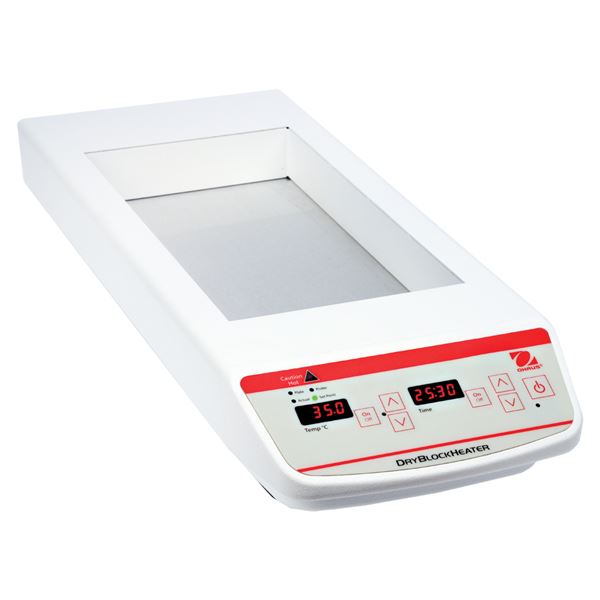 Ohaus HB6DG Digital Dry Block Heater, 6 Block, 120V
Original price
$1,290.00
-
Original price
$1,290.00
Introducing the Ohaus HB6DG Digital Dry Block Heater, the ultimate solution for high throughput applications.
With its unique design and six-block capacity, this innovative device offers unparalleled flexibility, allowing you to process multiple samples simultaneously.

Accuracy is paramount, and the Ohaus HB6DG delivers. Digital models include a groundbreaking single-point calibration feature, ensuring the block heater's display matches a known external temperature standard for three temperature setpoints. Say goodbye to guesswork and hello to precise results.

Ease of use is a top priority, and the Ohaus HB6DG excels in this area. Digital models feature user-friendly touchpad controls with independent displays for both temperature and time. On the other hand, robust non-digital models are equipped with dual temperature adjustment knobs that offer seamless control.

The applications for this remarkable device are vast and varied. From incubation and activation of cultures to enzyme reactions, immunoassays, melting/boiling points, isothermal incubations, and nucleic acid denaturation - the Ohaus HB6DG is your go-to tool.

Convenience and functionality go hand in hand with the Ohaus HB6DG. Digital models boast an LED display that provides clear visibility, while analog models feature dual-adjustment knobs with dial markings for effortless adjustments.

Operating the Ohaus HB6DG is a breeze. The device comes with a detachable 3-wire cord and plugs, ensuring a hassle-free setup. It's worth noting that analog models require an external thermometer or temperature device to set the desired temperature.

Constructed with durability, the Ohaus HB6DG features a painted steel housing that withstands rigorous use. The support rod holder with a locking knob ensures stability during operation.

Designed conveniently, digital models are equipped with a touchpad control and audible alarm. This ensures you stay informed about essential temperature changes even when not monitoring the device closely.

In conclusion, the Ohaus HB6DG Digital Dry Block Heater is a game-changer in high throughput applications. With its unmatched flexibility, precise temperature control, and user-friendly features, it's the perfect tool for laboratories, research facilities, and any setting that demands efficiency and accuracy.
Take your experiments to new heights with the Ohaus HB6DG.