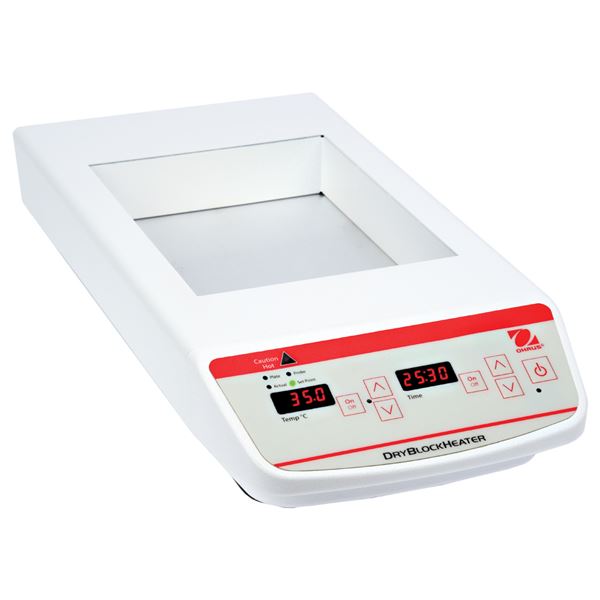 Ohaus HB4DG Digital Dry Block Heater, 4 Block, 120V
Original price
$850.00
-
Original price
$850.00
Introducing the Ohaus HB4DG Digital Dry Block Heater, a versatile and efficient device designed to meet all your laboratory needs.
With its four-block capacity, this heater allows you to process multiple samples simultaneously, saving you time and effort.

One of the standout features of the HB4DG is its exceptional temperature accuracy. The digital models come equipped with a unique single-point calibration feature, ensuring that the display matches a known external temperature standard for three temperature setpoints. This guarantees consistent and reliable results every time.

Operating the HB4DG is a breeze thanks to its user-friendly touchpad controls. The digital models boast independent displays for both temperature and time, providing you with precise control over your experiments. On the other hand, the robust non-digital models are controlled with dual temperature adjustment knobs, offering simplicity and ease of use.

The applications of this dry block heater are vast and varied. Whether you need it for incubating cultures, activating enzymes, performing immunoassays, determining melting or boiling points, conducting isothermal incubations, or denaturing nucleic acids, HB4DG has got you covered.

Keeping you informed at all times is the LED display found in the digital models, providing clear visibility of the temperature settings. For analog models, dual-adjustment knobs with dial markings ensure accurate temperature control.

Constructed with durability in mind, the HB4DG features a painted steel housing and a support rod holder with a locking knob. This ensures stability during operation and enhances longevity.

In addition to its impressive design features, the digital models also have a touchpad control and an audible alarm system. These added functionalities provide convenience and peace of mind throughout your experiments.

Choose the Ohaus HB4DG Digital Dry Block Heater for its flexibility, accuracy, and user-friendly design.
It's time to elevate your laboratory experience with this exceptional product.