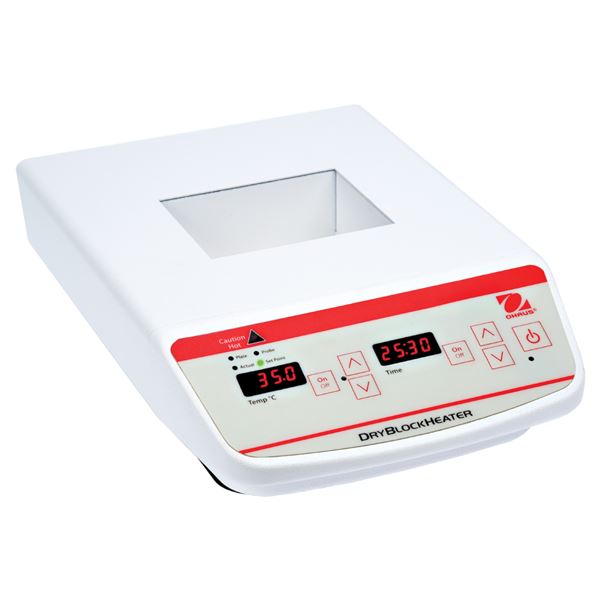 Ohaus HB1DG Digital Dry Block Heater, 1 Block, 120V
Original price
$545.00
-
Original price
$545.00
Introducing the Ohaus HB1DG Digital Dry Block Heater, the perfect companion for reliable everyday use in the lab.
With exceptional temperature uniformity and outstanding stability, this block heater ensures precise and accurate temperature control for various applications.

The HB1DG Digital Dry Block Heater is designed to guarantee temperature accuracy, offering a unique single-point calibration feature that allows you to match the display to a known external temperature standard for three temperature setpoints. This ensures that your experiments and processes are carried out with utmost precision.

Featuring easy-to-use touchpad controls, the digital model provides independent displays for both temperature and time, allowing you to monitor and adjust settings effortlessly. On the other hand, the non-digital models come equipped with dual temperature adjustment knobs, providing you with reliable control over your desired temperature range.

Whether you need to incubate cultures, activate enzymes, conduct immunoassays, determine melting/boiling points, perform isothermal incubations, or denature nucleic acids, the Ohaus HB1DG Digital Dry Block Heater has covered you. Its versatility makes it an essential tool in any laboratory setting.

The LED display on the digital models offers clear visibility of the temperature readings, while the analog models boast dual-adjustment knobs with dial markings for easy and precise adjustments. The detachable 3-wire cord and plug ensure convenient operation, while the analog models require an external thermometer or temperature device for setting the desired temperature.

Constructed with durable painted steel housing and equipped with a support rod holder with a locking knob, this block heater is built to withstand daily use in demanding lab environments. The digital model also includes a touchpad control and audible alarm for convenience and peace of mind.

In conclusion, the Ohaus HB1DG Digital Dry Block Heater is a reliable and versatile tool with exceptional temperature control for various laboratory applications. Its user-friendly design, precise calibration feature, and durable construction make it the ideal choice for scientists and researchers seeking accurate and consistent results.
Upgrade your lab equipment with the Ohaus HB1DG Digital Dry Block Heater and experience the convenience and efficiency it provides.