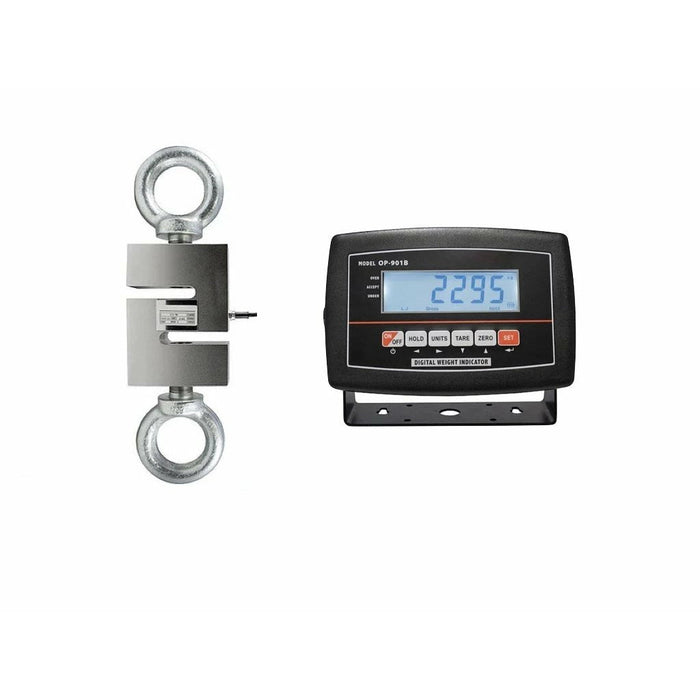 Liberty LS-926 Hanging Scale (S-Type) used for tension & compression!
Original price
$299.00
-
Original price
$599.00
Introducing the Liberty LS-926 Hanging Scale (S-Type) - the ultimate solution for all your tension and compression weighing needs!
Whether you're in the industrial sector or a hobbyist looking to weigh heavy objects, this versatile scale is perfect for a wide range of applications.
Key Features:
With selectable weighing units in pounds (lb) and kilograms (kg), the LS-926 allows you to customize your measurements to suit your specific requirements. Say goodbye to complicated conversions and enjoy the simplicity of accurate readings in your preferred unit.
The scale includes the LS-7516 LCD indicator with a rechargeable battery for convenience and portability. The indicator boasts essential functions such as Tare, Print, and Peak Hold, ensuring accurate and efficient weighing every time. No more manual calculations or guesswork - the LS-926 simplifies your weighing process.
Equipped with a 19-foot load cell cable (with longer cables available), this hanging scale offers flexibility in positioning, allowing you to weigh objects at various heights. The accompanying eyebolts make installation hassle-free, ensuring a secure and stable setup.
The LS-926 provides an upgrade option to the NEMA 4 stainless steel indicator for those working in washdown environments. This feature makes it suitable for use in harsh conditions where water or dust may be present, providing durability and longevity.
Additionally, the RS232 port allows seamless connectivity to printers or computers for easy data transfer and record-keeping. Keep track of your measurements effortlessly and streamline your workflow with this convenient feature.
Choose the Liberty LS-926 Hanging Scale (S-Type) for reliable and accurate weighing, whether you're using it as a crane scale or an overhead scale. Its robust construction and user-friendly features make it an essential tool for professionals and hobbyists alike.
Shipping Policy:
We offer free shipping for business addresses within the contiguous 48 states. For residential delivery, a small additional fee of $100 applies. Lift gate services are also available for easy unloading, with an optional $50 charge if no forklift is available. People from Hawaii & Alaska can Contact us for personalized Shipping Quotes. Your satisfaction is our Top Priority! Kindly provide your contact number and company name for business purchases.
Don't settle for anything less than precision - invest in quality with Liberty Scales.