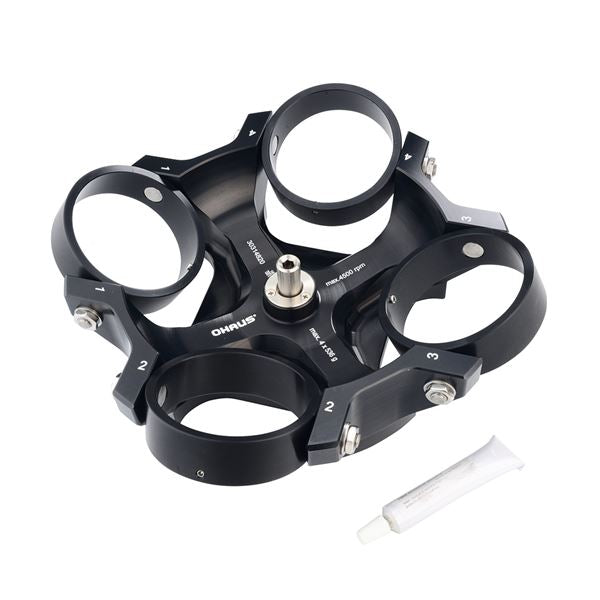 Ohaus R-S4x250/4MI Frontier Rotors Centrifuge, 4 x 250 ml, 3,780 g
Original price
$1,955.00
-
Original price
$1,955.00
Introducing the Ohaus R-S4x250/4MI Frontier Rotors Centrifuge, a powerful and versatile tool designed to meet all your sample preparation needs.
With its maximum capacity of 3,780 g and readability of 4 x 250 ml, this centrifuge is perfect for various applications.

Choose from various rotors specifically engineered to match the capacities and flexibility required for your essential to high-performance sample preparation. The Frontier rotors are the ideal accessory for your centrifuge, ensuring efficient and precise separations every time.

Installation and removal of the rotors is a breeze, thanks to their user-friendly design. In just a few simple steps, you can effortlessly install or remove the rotors, saving you valuable time and effort. Plus, easy access to your samples means you can quickly retrieve them without hassle.

Durability is paramount regarding laboratory equipment, and the Frontier rotors deliver on that front. Constructed with high-quality materials such as aluminum or polypropylene, these sturdy rotors are built to withstand demanding workflows. From autoclave sterilization to sub-zero temperatures, they can handle it all without compromising performance.

Whether you're working in a research lab, medical facility, or industrial setting, the Ohaus R-S4x250/4MI Frontier Rotors Centrifuge is the ultimate centrifugation accessory you need. It guarantees reliable results and provides the utmost convenience in sample preparation.

Invest in this innovative centrifuge today and experience unparalleled efficiency and ease of use in your laboratory. Don't settle for anything less than the best regarding your sample preparation needs.
Choose Ohaus and elevate your scientific endeavors to new heights.