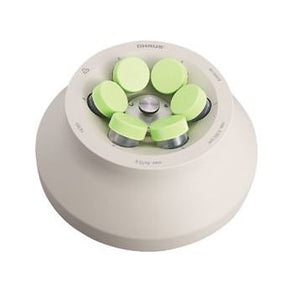 Ohaus R-A6x50/6M Frontier Rotors Centrifuge, 6 x 50 ml, 4,427 g
Original price
$1,260.00
-
Original price
$1,260.00
Introducing the Ohaus R-A6x50/6M Frontier Rotors Centrifuge, the perfect companion for your sample preparation needs.
With a maximum capacity of 6 x 50 ml and a readability of 8 x 1.5 / 2.0 ml, this centrifuge offers unmatched performance and versatility.

Designed with usability, the Frontier rotors can be effortlessly installed or removed in just a few quick and simple steps. Say goodbye to complicated setups and hello to convenience. With easy access to your samples, you can now streamline your workflow and save valuable time.

Crafted from high-quality materials, these sturdy rotors are built to withstand demanding workflows. Whether it's autoclave sterilization or sub-zero temperature conditions, the Frontier rotors are up to the task. Experience peace of mind knowing that your investment will last for years to come.

The Ohaus R-A6x50/6M Frontier Rotors Centrifuge is not just any centrifugation accessory – it's a game-changer. With its aluminum or polypropylene construction, it combines durability with functionality. Choose the material that best suits your needs and enjoy reliable performance every time.

Compatible with Frontier centrifuges, this rotor is the missing piece in your laboratory setup. It is designed to match the capacities and flexibility required for essential to high-performance sample preparation. Whether working in a research facility or a medical laboratory, this centrifuge rotor will elevate your work to new heights.

Don't settle for anything less than exceptional quality and efficiency.
Upgrade your laboratory with the Ohaus R-A6x50/6M Frontier Rotors Centrifuge and experience the difference it makes in your daily operations.