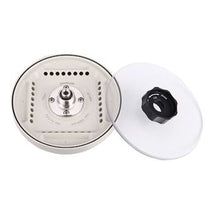 Ohaus R-A4xPCR/15 Frontier Rotors Centrifuge, 4 x 0.2 ml PCR8, 15,342 g
Original price
$2,185.00
-
Original price
$2,185.00
Introducing the Ohaus R-A4xPCR/15 Frontier Rotors Centrifuge, the perfect solution for all your sample preparation needs.
With its versatile capabilities and user-friendly design, this centrifuge is a must-have for any laboratory or research facility.

Boasting a maximum capacity of 15,342 g, the R-A4xPCR/15 model provides ample space to accommodate a wide range of samples. Its readability of 4 x 0.2 ml ensures precise measurements and accurate results.

The Frontier rotors are thoughtfully designed with usability in mind. Installing or removing them is a breeze, thanks to the quick and simple steps involved. Users can effortlessly access their samples, saving valuable time and effort.

Durability is vital in laboratory equipment, and the Ohaus R-A4xPCR/15 does not disappoint. Constructed with high-quality materials, these sturdy rotors can withstand even the most demanding workflows. From autoclave sterilization to sub-zero temperature environments, this centrifuge can handle it all without compromising performance.

Whether working in a medical lab, research facility, or industrial setting, the Ohaus R-A4xPCR/15 Frontier Rotors Centrifuge is your go-to solution. Its easy-installation design features make it a convenient choice for users of all skill levels.

Incorporating aluminium or polypropylene materials in its construction, this centrifuge offers both durability and versatility. It's the perfect accessory for various centrifugation applications.

Upgrade your laboratory equipment with the Ohaus R-A4xPCR/15 Frontier Rotors Centrifuge and experience the convenience and precision it brings to your sample preparation process. With its outstanding performance and user-friendly features, this centrifuge sets a new standard in scientific innovation.
Don't settle for anything less than excellence – choose Ohaus for all your laboratory needs.