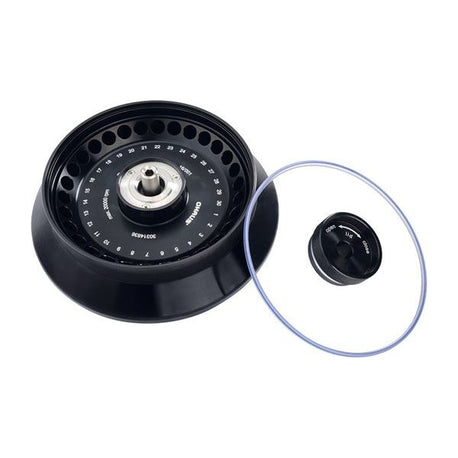 Ohaus R-A30x2/14MIS Frontier Rotors Centrifuge, 30 x 1.5 /2.0 ml, 20,595 g
Original price
$1,900.00
-
Original price
$1,900.00
Introducing the Ohaus R-A30x2/14MIS Frontier Rotors Centrifuge, the ultimate solution for your sample preparation needs.
With its maximum capacity of 20,595 g and readability of 30 x 1.5 /2.0 ml, this centrifuge is designed to handle a wide range of applications, making it an essential accessory for any laboratory.

The Frontier rotors are carefully crafted to provide unmatched usability. Installing or removing them is a breeze, thanks to their user-friendly design. With just a few simple steps, you can effortlessly swap out the rotors and gain easy access to your samples. No more wasting precious time struggling with complicated mechanisms.

Durability is at the core of the Frontier rotors' construction. Made from high-quality materials such as aluminum or polypropylene, these rotors are built to withstand even the most demanding workflows. Whether it's autoclave sterilization or sub-zero temperature environments, these sturdy rotors can handle it all without compromising their performance.

With the Ohaus R-A30x2/14MIS Frontier Rotors Centrifuge, you can choose from a range of rotors that best suit your specific needs. Whether you require essential sample preparation or high-performance capabilities, there's a rotor available for every application. Experience unparalleled flexibility and efficiency in your lab with this state-of-the-art centrifuge.

Don't settle for anything less than perfection regarding your laboratory balances. Trust Ohaus, the industry leader in precision weighing technology, to deliver exceptional quality and reliability. Upgrade your lab equipment today with the Ohaus R-A30x2/14MIS Frontier Rotors Centrifuge and take your sample preparation to new heights.

Invest in the Ohaus R-A30x2/14MIS Frontier Rotors Centrifuge and unlock a world of possibilities in your laboratory. With its advanced features, user-friendly design, and unparalleled durability, this centrifuge is a game-changer. Take advantage of the opportunity to enhance your sample preparation process.
Order yours now and experience the Ohaus difference.