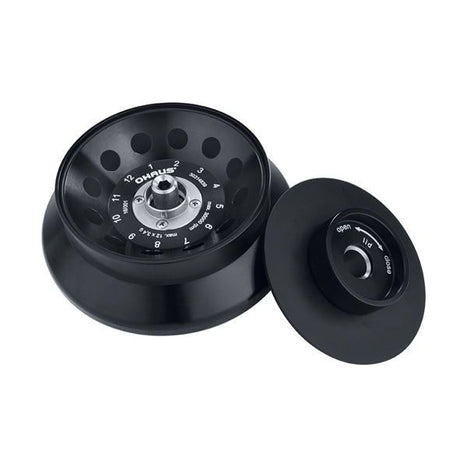 Ohaus R-A12x2/18MI Frontier Rotors Model Centrifuge, 12 x 1.5 /2.0 ml, 40.8 g
Original price
$1,700.00
-
Original price
$1,700.00
Introducing the Ohaus R-A12x2/18MI Frontier Rotors Model Centrifuge, a powerful and versatile tool designed to meet all your sample preparation needs.
With its maximum capacity of 40.8 g and readability of 2 x 1.5 /2.0 ml, this centrifuge rotor is the perfect choice for both primary and high-performance applications.

When it comes to convenience and usability, the Frontier rotors excel. Installing or removing them from your Frontier centrifuge is a breeze, thanks to their user-friendly design. In just a few simple steps, you can effortlessly swap out rotors and gain easy access to your samples, saving you valuable time and effort.

Durability is paramount in any laboratory setting, and the Frontier rotors deliver. Constructed with high-quality materials, they can withstand even the most demanding workflows. From autoclave sterilization to sub-zero temperatures, these sturdy rotors will endure it all, ensuring reliable performance for years.

Whether performing centrifugation experiments or conducting research in a laboratory, the Ohaus R-A12x2/18MI Frontier Rotors Model Centrifuge is an essential accessory. Its aluminum or polypropylene construction guarantees durability while providing the flexibility required for various applications.

Choose the Frontier rotor that best matches your capacity and flexibility needs, and experience the ease of use and reliability that Ohaus is known for. Upgrade your sample preparation process with this exceptional centrifuge rotor and achieve accurate results every time.

Invest in quality and efficiency with the Ohaus R-A12x2/18MI Frontier Rotors Model Centrifuge. Please take advantage of its accessible installation features, robust construction, and impressive performance capabilities.
Make sure to settle for perfection regarding your laboratory equipment - choose Ohaus for unparalleled reliability and precision.