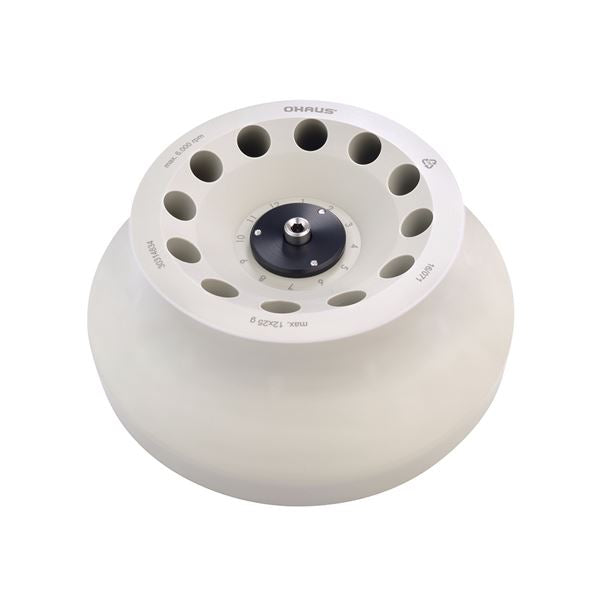 Ohaus R-A12x15/6MI Frontier Rotors Centrifuge, 12 x 15ml, 300 g
Original price
$1,190.00
-
Original price
$1,190.00
Introducing the Ohaus R-A12x15/6MI Frontier Rotors Centrifuge, the ultimate solution for all your sample preparation needs.
With its maximum capacity of 300 g and a readability of 12 x 15, this centrifuge is designed to deliver outstanding performance and flexibility.

The Frontier rotors are the perfect companion for your Frontier centrifuge, allowing you to customize your sample preparation process according to your specific requirements. Whether you need a basic setup or a high-performance solution, these rotors have covered you.

One of the standout features of these rotors is their user-friendly design. Installing or removing them is a breeze, thanks to their effortless installation process. In just a few simple steps, you'll have the rotors ready to go, saving you valuable time and effort. Not only that, but the easy access they provide to your samples ensures a seamless workflow.

Durability is another crucial aspect of the Frontier rotors. Constructed from high-quality materials, they are built to withstand even the most demanding workflows. From autoclave sterilization to sub-zero temperatures, these rotors will maintain their performance and reliability.

Whether you're in a laboratory, research facility, or any other setting that requires centrifugation, the Ohaus R-A12x15/6MI Frontier Rotors Centrifuge is the ideal choice. Its aluminum or polypropylene construction ensures longevity and stability, while its easy installation design makes it a breeze to integrate into your existing setup.

Keep quality and efficiency high when it comes to sample preparation. Choose the Ohaus R-A12x15/6MI Frontier Rotors Centrifuge and experience unparalleled performance and ease of use.
Upgrade your sample preparation process today and witness the difference firsthand.