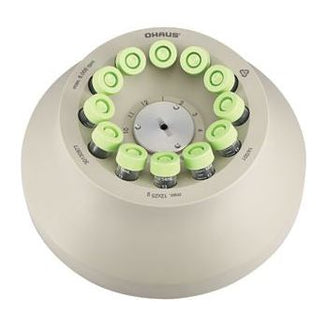 Ohaus R-A12x15/6M Frontier Rotors Centrifuge, 12 x 15ml, 4427g
Original price
$715.00
-
Original price
$715.00
Introducing the Ohaus R-A12x15/6M Frontier Rotors Centrifuge, a powerhouse in sample preparation.
With its impressive maximum capacity of 4427g and readability of 12 x 15, this centrifuge is designed to meet all your basic to high-performance needs.

The Frontier rotors are the perfect match for the Frontier centrifuges, offering unparalleled flexibility and capacity options. Whether you're working with small or large volumes, there's a rotor to suit your requirements. Choose from a range of rotors that provide the utmost reliability and precision in every spin.

Installing and removing the rotors is a breeze with the user-friendly design of the Frontier rotors. In just a few simple steps, you can effortlessly swap out rotors and easily access your samples. No more wasting precious time struggling with complicated setups - this centrifuge is about efficiency and convenience.

Constructed with durability, the Frontier rotors are made from high-quality materials that can withstand even the most demanding workflows. From autoclave sterilization to sub-zero temperatures, these sturdy rotors will stand the test of time, ensuring consistent and reliable performance.

Whether conducting research in a laboratory or working in an industrial setting, the Ohaus R-A12x15/6M Frontier Rotors Centrifuge is an essential tool for any centrifugation application. Its aluminum or polypropylene construction guarantees longevity, while its easy installation design makes it user-friendly for professionals of all experience levels.

Invest in the Ohaus R-A12x15/6M Frontier Rotors Centrifuge and experience the perfect balance of power, precision, and convenience for all your sample preparation needs.