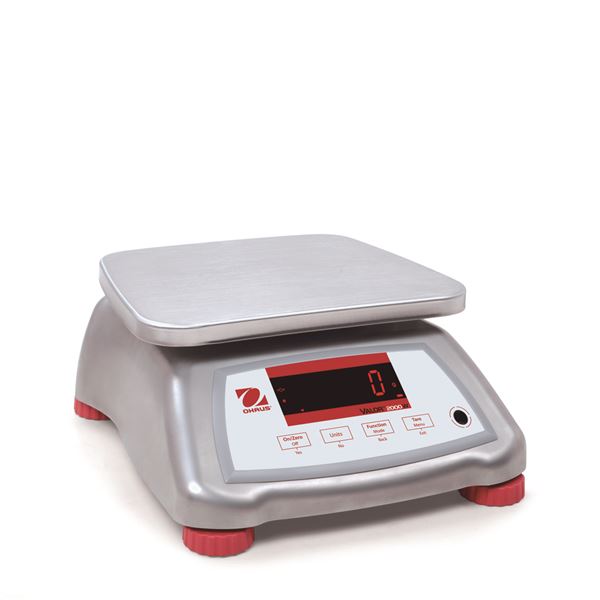 Ohaus 7.5" x 9.5" Valor 2000 V22XWE6T, 15 lbs x 0.002 lb
Original price
$688.00
-
Original price
$688.00
Introducing the Ohaus Valor 2000 V22XWE6T, the ultimate companion for all your weighing needs.
This portable scale is designed to deliver precise results while offering unmatched durability and convenience.
Crafted with a sturdy polycarbonate keypad, this scale ensures protection from knives and other sharp instruments commonly used in food preparation, processing, and portioning applications. Say goodbye to accidental damage and hello to peace of mind.
But that's not all. The Ohaus Valor 2000 V22XWE6T comes with a unique IPX8 flow-thru design that allows it to drain moisture, making it perfect for wet conditions. No more worrying about water damage or inaccurate readings.
With a stabilization time of less than a half-second, this scale delivers lightning-fast results. The large front and rear LED displays provide easy viewing, allowing two operators to share one scale effortlessly. Efficiency and productivity at its finest.
Whether you're weighing ingredients in a busy kitchen or conducting laboratory experiments, the Ohaus Valor 2000 V22XWE6T has got you covered. Its versatile applications include weighing and checkweighing (XW only), making it an essential tool for various industries.
The sleek design of this scale features an ABS housing with a stainless steel platform (PW) or a full stainless steel housing and platform (XW). Not only does it look professional, but it also offers durability that stands the test of time. The up-front level indicator further enhances usability, ensuring accurate measurements every time.
For added convenience, the Ohaus Valor 2000 V22XWE6T comes with an auto-close power jack cover and a transportation handle. It's the perfect balance of functionality and portability.
Invest in the Ohaus Valor 2000 V22XWE6T and experience precision like never before. With its advanced features, durable construction, and user-friendly design, this scale is the ultimate choice for professionals in need of accuracy and reliability.
Order yours today and take your weighing experience to new heights.