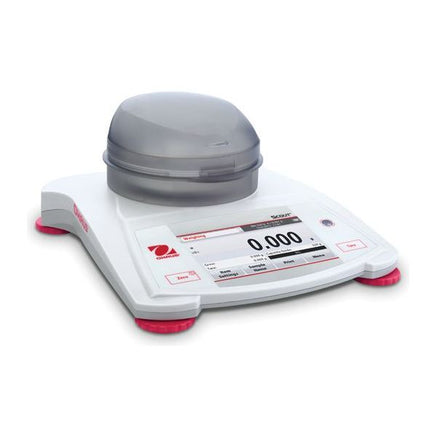 Ohaus 3.7" STX Series Portable Balances STX123 120 g x 0.001 g
Original price
$985.00
-
Original price
$985.00
Introducing the Ohaus 3.7" STX Series Portable Balances STX123, a compact and powerful weighing solution designed to enhance your productivity and accuracy.
With its maximum capacity of 120g and readability of 0.001g, this portable balance is perfect for laboratory applications, parts counting, check weighing, and more.

One standout feature of the STX123 is its large and intuitive color touchscreen display. This user-friendly interface provides easy operation, guiding you through every step of your weighing application. No more navigating complex menus or struggling with tiny buttons – the STX123 makes weighing a breeze.

Equipped with advanced weighing technology, this portable balance offers rapid stabilization time in just one second. Say goodbye to waiting around for accurate measurements – the STX123 ensures quick results, increasing your productivity and efficiency.

The Ohaus STX123 boasts a range of additional features that make it a versatile and reliable tool in any laboratory setting. The ABS housing provides durability, while the stainless steel pan ensures precision weighing. The included ABS draftshield (1mg models only) protects against external disturbances, ensuring accurate readings.

Designed for convenience, the STX123 offers multiple power options. You can use the included AC adapter or rely on 4 AA batteries (not included) for on-the-go weighing.

With various communication options such as RS232, USB Host, USB Device, Ethernet, or Bluetooth™ (available as an accessory), you can easily connect the STX123 to other devices for data transfer and analysis.

The stability indicator, stackable design with storage cover (excluding 1mg models), mechanical and software overload/underload protection, low battery indicator, auto shut-off, auto tare, and span calibration mass (included on models up to 620g capacity) are just some of the design features that make the Ohaus STX123 a reliable and user-friendly choice.

In conclusion, the Ohaus 3.7" STX Series Portable Balances STX123 is a precision instrument that combines convenience, accuracy, and versatility. Whether you're working in a laboratory, conducting parts counting, or performing check weighing, this portable scale will meet all your weighing needs.
It's time to take your weighing experience to the next level with Ohaus.