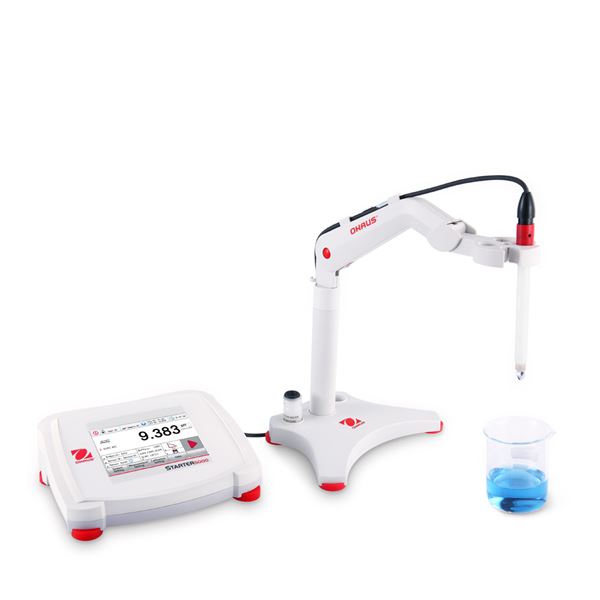 Ohaus Starter pH Bench ST5000-B, -2.00 – 20.00 pH x ±0.03 mV
Original price
$1,645.00
-
Original price
$1,645.00
Introducing the Ohaus Starter pH Bench ST5000-B, the ultimate solution for precise pH measurement and analysis.
With its exceptional features and user-friendly design, this bench meter is a must-have for any laboratory or scientific setting.

Equipped with a 1000-item library, the ST5000-B allows for effortless recall from data storage, ensuring easy access to previous measurements and calibration data. This feature streamlines the entire analysis process, saving you valuable time and effort.

The flexibility of this bench meter is unparalleled. It offers pH analysis from 10 sensors for calibration storage, giving you the freedom to work with a wide range of solutions. With 1 self-defined and 8 pre-defined buffer groups, you can achieve accurate results across various pH levels. Additionally, the ST5000-B boasts 3 endpoint modes and a GLP mode, providing you with even more control over your experiments.

Designed with convenience in mind, this bench meter is packed with user-friendly features. The adjustable standalone electrode holder ensures stability during measurements, while the large touch-screen, backlit LCD display offers clear visibility even in low-light conditions.

Durability is critical when it comes to laboratory equipment, and the ST5000-B delivers on that front. Its robust construction includes an IP54 housing and an in-use cover, protecting it from dust and spills. The USB port allows for easy data transfer and connectivity to other devices.

Whether you're conducting pH measurements or oxidation-reduction potential (ORP) analysis, the Ohaus Starter pH Bench ST5000-B is your go-to tool. It combines accuracy, reliability, and ease of use into one powerful device.
Don't settle for anything less than perfection – choose the ST5000-B for all your laboratory needs.