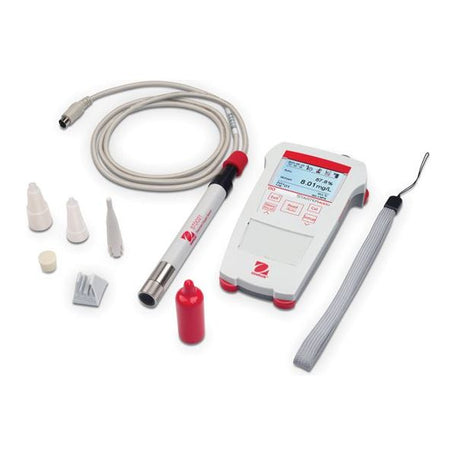 Ohaus Starter DO Portable ST400D, 0.00 – 20.0 mg/L(ppm) x 0.2 ppm
Original price
$1,700.00
-
Original price
$1,700.00
Introducing the Ohaus Starter DO Portable ST400D, the ultimate solution for precise and hassle-free Dissolved Oxygen (DO) measurement.
With its cutting-edge features and user-friendly design, this portable device revolutionizes the way you measure DO in both field and lab settings.

Gone are the days of tedious warm-up periods and sample preparation. The optical DO probe featured in the ST400D requires minimal maintenance and provides immediate measurement readings. Say goodbye to waiting around and get instant results with unmatched accuracy.

Designed for convenience and efficiency, the ST400D boasts a large backlit LCD screen that ensures easy readability even in low light environments. No more squinting or straining your eyes to decipher the readings. The clarity of the display makes it perfect for use in various conditions, whether it's bright sunshine or a dimly lit space.

Equipped with a sturdy meter stand, wrist strap, and durable IP54 housing, this portable device is built to withstand the rigors of field use. Rest assured that your measurements will remain secure and reliable, regardless of the challenging conditions you encounter.

The ST400D also features an impressive 99-measurement library, allowing you to store data for future reference. Need to recall the last calibration data? With just one touch, effortlessly access your previous calibration information. This convenient feature saves time and ensures consistent accuracy in your measurements.

Powered by four AAA batteries (included), this portable device is ready to go whenever and wherever you need it. No more worrying about finding an electrical outlet or running out of power during crucial moments.

Constructed with ABS housing, the ST400D guarantees durability and longevity, making it a sound investment for both professionals and enthusiasts alike. Its robust design ensures reliability during extensive use without compromising on accuracy.

Experience unrivaled precision and efficiency with the Ohaus Starter DO Portable ST400D. Whether you're conducting field research or working in a laboratory setting, this device is your go-to companion for accurate and hassle-free Dissolved Oxygen measurement.
Trust in its exceptional performance and discover a new level of convenience in your work.